Storied Windows is a husband and wife multi-genre music composition, songwriting and production team based in the Washington DC area. They specialize in music for film, TV and all forms of digital media. They currently have released two album: The first is entitled, "Reflections", an album of tender, emotional instrumentals, while their latest, "The Lost and Found", is a collection of indie folk/rock vocal songs. The songs on this latter release are fully realized, and enriched with elaborate arrangements and melodies that are both elusive and assured at the same time. It's alluring musical concept, is one that encourages listeners to take it all in without interruption.
"The Lost and Found" could be considered an opus of sorts, a fully realized work that's epic, intriguing, expansive, and yet introspective. It's an immersive listening experience that delivers on all of it's expected promises. The sounds come together with grace, over acoustic strums, warm keys, sweeping strings and gentle but propelling rhythms. It's all very clean, well-balanced, and to the point, further enhanced by resonant, soulful vocals and celestial harmonies.
The album's highs come organically, in touch with the truest, most heartfelt emotions, and they are delivered with pristine beauty and an emphasis on heart-rending storytelling. Storied Windows have an uncommon talent for creating songs that offer the very essence of the human experience in all of it's emotional and sentimental facets.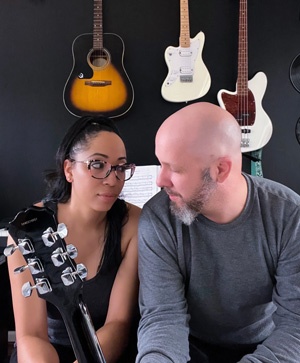 A lusciously recorded independent album, as rewarding as "The Lost and Found" doesn't just spontaneously materialize. Though effortless in it's execution, the huge amount of work required, to write, record and produce an album of this caliber, is immediately obvious as soon as the first haunting bars of "If You Try" triggers the proceedings. The steady beat underscores a warm and earthy production, lead by stunningly mellifluous vocals with just enough rasp to rip through your soul.
The wondrous mid-tempo sonic landscape of "Sinai", is majestically orchestrated, both vocally and musically, taking us to the acoustic jangle of "I Won't Go" and superbly layered "Situations" where the crunch and ring of the guitars underline another meticulous melody and lead vocal.  The voice and mood is ethereal and eloquent on the delicate aura of "Drown". The tracks "Home" and "Everlasting" certify that few groups can cherry-pick the essence of past and present folk-inflected indie rock as well as Storied Windows does on this album.
Balance, focus, scope, and humility is a hard combination for any project to achieve, on only their second album release, yet Storied Windows do this almost effortlessly. The articulated "Catch The Wind" and "Find You In The Moon" are expressions of delicate nuance and ambiance which are more than captivating to the ear. As is the sultry title track, "The Lost and Found" which rides on  strummed guitar motifs which shimmer like diamonds, and a throbbing drumbeat. On this superb track, ears are also graced by a soothing voice that leads the song onward.
I can count on one hand the number of contemporary artists who write indie folk/rock as aesthetically gorgeous and simultaneously memorable as Storied Windows does, and when the music and the vocals meet on "Circles", the watermark is raised to its highest point. Storied Windows' striking melodies are matched by their wonderful instrumental arrangements, and the gripping vocals. The pace picks up on the final track, "Nothing Left To Give". The sound is evocative and immersive on one hand but effervescent and playful on the other.
All said, the "The Lost and Found" album, is a thrilling new and fresh adventure for Storied Windows fans, and a bold, skilled, and ultimately successful attempt to take the styles of eras past and incorporate them into a very cohesive and delightfully modern package. This is album will talk to you in so many ways. Melodies that are heartfelt will play their way into the consciousness until humming them become second nature. Richard and Traci Wilusz aka Storied Windows, have leveraged all of their strengths and experiences to craft an ambitious and immaculate album.
OFFICIAL LINKS:
www.storiedwindows.com
www.Facebook.com/storiedwindows
www.instagram.com/storiedwindows
Please follow and like us: