L.Dre was born and raised in Los Angeles, CA. Since second grade he has planned to take over the rap scene, inspired by Eminem, Childish Gambino and Kendrick Lamar, this young artist has excelled in plenty of art forms to compliment his versatility. A Producer, Songwriter, Photographer and Entrepreneur, has branded himself with the uses of several different alter egos to capture the multitudes.
Being a "table" is his brand and philosophical statement – both in his clothing line and in the tile of his album "I Am A Table". "The idea behind I Am A Table," states L.Dre, "is that you can be whatever you want to be. Do not let anyone tell you what you can, or cannot do/be."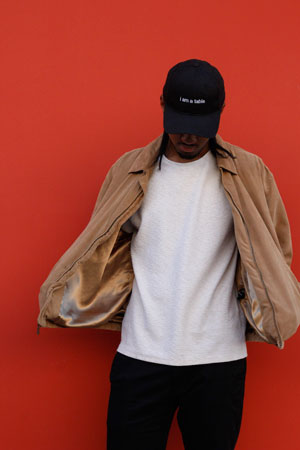 Authenticity has largely become a moot point in popular music, save for hip-hop. Does the listener believe what they are hearing? Not necessarily did the action described really happen, but does the spirit of what is being conveyed come from an honest place? Does the artist have truths to convey?
Or is there deception at work? Is the artist trying to trick us? A listener doesn't want to agree with a sentiment, and then discover they were being manipulated. Because it's honest in its execution, "I Am A Table" should receive some notable acclaim.
This album distinguishes a style that is L.Dre's own, always sounding one step ahead of his contemporaries, something that is bound to be more common as rap's history extends to future generations.
The recording is actually much more than just an album of loosely narrative songs with plenty of insight and many clever conclusions. L.Dre writes with such self-awareness giving the listener a flickering, kaleidoscopic view of the world, in a variety of styles from song to song.
The album sounds like the album cover looks: A snapshot of a man as a table surveying the world around him. It offers what seems like a very truthful essence of L.Dre mind state at the time of writing and recording.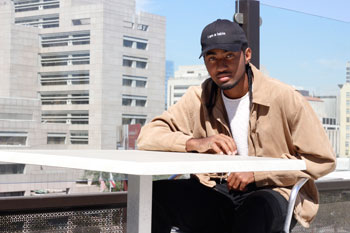 Regardless of the cover artwork of apparent calm, L.Dre proves himself a serious rapper, rhyming with more verve and venom than anybody would have expected. The rule of 'never judge a book by its cover,' yet again proves itself to be true.
From the opening track, "Get By (Ft. Nessa)", to the hook-filled melodic "Everything Before Now (Ft. Livie Liv)", the dark and cinematic "Pimp", to the cheekily playful "Friday Night (Ft. Yen Reneaux)" and the soulful, organic sounding "2 Hours (Ft. Nessa) [Prod. L.Dre]", L.Dre aggressively rejects being pigeonholed, with lyrics, flows and rhyme schemes that lay out an alternative vision which is far more revolutionary than it at first seems to be. L.Dre has taken his craft to a higher plane.
"I Am A Table" illustrates why L.Dre is above the rest of the game. Accompanied by addictive hooks and choruses which never fall into the mediocre mainstream set of values, the songwriting skills which L.Dre possesses prove to be the driving force behind his appeal. And which is closely followed by his all-embracing persona and charisma.
Essential tracks: "I Swear", "Ready or Not (Ft. Kyle Gee)", "Tell'em (Ft. GriZZy)"
OFFICIAL LINKS: WEBSITE – SOUNDCLOUD – INSTAGRAM – TWITTER – FACEBOOK
Please follow and like us: