Ever since the release of "Born To Be A Rockstar", C. Mac has been an expert in creating leftfield and moving offerings, set against luscious sonic backdrops which lean on rock and blues flavorings from as far back as the 60's, 70's and early 80's. Curiously enough, however, the sound is more futuristic than it is retro. Partly due to how the mixes and melodies are arranged and executed, and partly because the vocals are awash with dream-pop-like reverb. The enormous mixes feel so cavernous across every C. Mac track, as liquid guitars are draped across simmering keys and running basslines while the reverb-doused, off-kilter vocals accentuate the sonic size that's looking to be achieved.
C.Mac does not create your expected garden variety of mainstream musical ditties. This is most definitely an acquired taste for those who prefer their music more challenging and a lot further from the maddening pop crowd. Melodies are dropped with a haughty English nuance naturally built into the vocals, which politely weave and work their way around the busy rhythms that proliferate underneath them. This much can be heard on the rather captivating single, "Lifeboat".
Having said that, it's not like this instrumental busyness, or the leftfield vocals are in anyway a problem, especially when there's so much room for this track to breathe naturally in a way that has an elemental quality that's intriguing about C. Mac's work. "Lifeboat" also has more to offer beyond that, especially in how excellently the constructional beat manages to hit.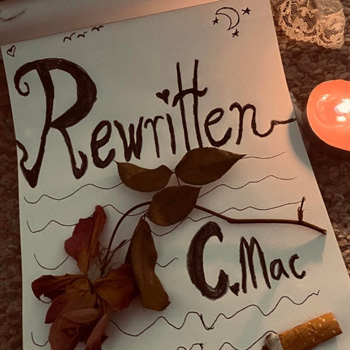 The gorgeous sway of the basslines and percussion has an understated potency that emerges with the absolute perfect amount of restraint, while the almost spoken-word-like echoing vocals, feel like the ideal backdrop for the slithering, simmering keys. Doubling as both a creative and experimental sound, the single "Lifeboat", feels distinctly profound in its lyrics and musicianship.
Ambition is the name of the game for C. Mac's latest effort "Rewritten", which is more atmospheric than the previous single offerings. This is a record that puts more weight upon textures, feel and storytelling.  With a substantial focus on narrative expansiveness and sonic smolder here, the dynamics in C. Mac's performance, feels all the more palpable and engaging.
"Rewritten" has been meticulously crafted to eke out as much quivering emotional mass as possible, and it regularly connects for a listen that, even on just a surface level, has a stunning amount of beauty and grace. Maybe it's just a case of how well the composition hits and the sense of skewed grandeur that comes with it, but something about "Rewritten" just hits in a way that constantly delivers and unravels more with each listen.
This might be C. Mac's best effort, and it's poetical lyrics is without a doubt a highlighting factor. Everything is transported to sentimental heights, allowing for the natural emotionality of the song to take the driving seat. C. Mac's lyricism is ever poignant which is suitably aided by the flexibility in instrumentation that fleets between dream-like and contemplative; somber and ominous; reverie and distant.
To conclude, because of the rather unusual musical palette, to fully savor the sounds of C. Mac requires an open mind and a penchant for the eclectic. In which case, you'll become easily involved in this blissful musical evolution.
OFFICIAL LINKS: SPOTIFY – TIKTOK
Please follow and like us: