As a rapper, Aspect Unsigned & Jah are approaching the point of being dependably great lyricists who enjoy using his adeptness at wordplay to uniquely make a point. When they showcase their growth in being able to link their classic skill-sets with modern content, the mixtape "The Wet Tapes" unequivocally succeeds. On the mixtape, Aspect Unsigned audaciously attempted to create poignant sexual commentary via combining his takes on his existence with those of Jah doing the same.
Aspect Unsigned & Jah watch trends closely and then creates their own. Catchy melodies are sprinkled throughout, making it easier to shrug off the feeling of familiarity. "H20" slides into "Slow Convo" with a clear mission statement: "The Wet Tapes is like a tease between her thighs."
The left-field "Yeah," turns out to be an undeniable highlight complete with a trip-hop vibe and a classic bass-heavy bounce over which the rappers impart explicit insight and bedroom tales. But beside the overtly sexual innuendo, the mixtape feature some strong tracks, reminders of the promise Aspect Unsigned & Jah holds.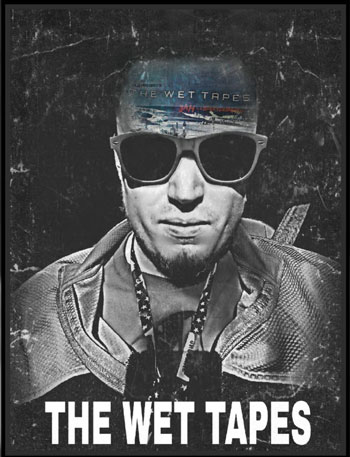 The soul-driven, sax-infected beat on "Virginia Legendary Squad" is nothing short of phenomenal, and truly infectious. "Psych" is a sublime, convergence of multiple voices over sonic minimalism, while "Laz3r Tag" has a sound that provides a charismatic contrast to it's almost anhedonic pursuit of pleasure.
Aspect Unsigned & Jah are seductive and encouraging over the ultraviolet slap of "Lov3 This Life Admit It".  Song after song, "The Wet Tapes" is successful at what it does not because it takes a fresh approach or carries an important message, but rather because it so effortlessly epitomizes the modern hip-hop genre as it currently exists, without any pretense or delusion of importance. It's just a classically good mixtape.
Both Aspect Unsigned & Jah may not be the most original voices in contemporary hip-hop, but they both have undisputed talent. The lush arrangements central to "The Wet Tapes"  aesthetic and Aspect Unsigned & Jah's uniquely balanced blend of both trashy and charming sexual innuendo is combined into a more than satisfying sound.
The mixtape is likely to impress and inspire even the savvy listener who has been attuned to this style for years, because it is consistently good enough to regard itself as one of the stand-out explicit bedroom mixtapes this year.
Aspect Unsigned & Jah have a personal flourish on full display on "The Wet Tapes" as they explores all the familiar themes of sensuality and pleasure, but they do it with sly charisma, self-awareness and wit, starting with odes to oral sex to the bracingly more frivolous and more serious erotic territory.
It's difficult to make music that's both commercially and artistically valuable, but Aspect Unsigned & Jah have compiled a set that seems to do just that. "The Wet Tapes" is flashy, hard, and groovy, but it's also easy to listen to because, despite its length, it doesn't take itself too seriously.
The best albums or mixtapes of this type are the ones that are as much fun as they are sexy, and most of the songs in this collection achieve a devious, subtle humor that any of the genre's mainstays should be envious of.
Along with the bright and clean production, replete with snapping snare drums, thumping basslines and floating synth pads that don't overwhelm the addictive hooks, "The Wet Tapes" become an endlessly accessible collection of bangers and slowburners alike.
Booking info contact: aspectunsigned@gmail.com
OFFICIAL LINKS: SOUNDCLOUD – YOUTUBE – DATPIFF – JAH SOUNDCLOUD
Please follow and like us: