"This is a record of gratitude and love. Learning to love means a lot of things, and as the words imply, it's a forever incomplete process. The nice thing I'm finding is that the loving path is one of great joy, fulfillment, and serendipity. There have been countless times when I've struggled to love myself, my family, my friends, and my world. Somehow, though, I can't think of a time when I didn't love music, so that would be the tool for this journey of uniting the aspects of my loving spirit." – Casey Frensz.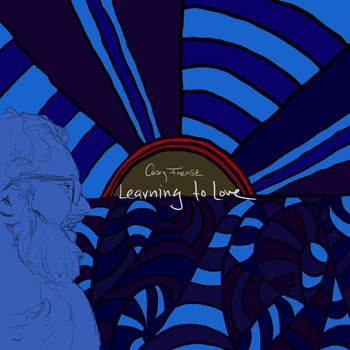 I sincerely doubt there is a better way to introduce "Learning To Love", the brand new album by singer-songwriter, multi-instrumentalist, and simply, musician extraordinaire, Casey Frensz. Casey lives with his cats, Fred and Maceo, in Northeast Minneapolis. He teaches music at Patrick Henry High School, maintains a studio of private students, and produces music in his home studio. In his spare time, he loves reading books, collecting and fixing instruments, skateboarding, and pondering the strange and beautiful nature of human existence.
Since 2017, Casey Frensz has  have released 4 full length albums – 'Spiral', 'Identity Games', 'Captain Queso and the Revealing Science of Groove', and now, 'Learning to Love'. His liberation from the creative confines of commercial success and the mainstream paradigm evidently spurred him on to take his ambition in numerous directions with results than ranged from surprising to stupendous. With 'Learning to Love', his creative efforts are considerably more polished and strike the ideal balance between virtuosity and palatability.
Throughout the album, I can appreciate the display of technical prowess without ever feeling as if the music is being made to serve the players' virtuosity, rather than vice-versa. "I've only scratched the surface, now it's time to dive inside. It's time to find the man behind the corners of my mind," are the opening lyrics to the 24 minute introductory song "Black Hole". It is a gorgeous entry point, a simply brilliant multi-movement fusion of progressive rock.
"My Drum!" decidedly ups the album's tone with a dirty driving funk arrangement, jam-packed with squealing guitars, punchy horns, and banging percussion. "Feel the power of the beat. Get the message, stomp your feet," sings Casey, wrapped up in a rhythm of unrelenting groove. The title track, "Learning to Love" arrives from the exact opposite side of the sonic spectrum, with a light an airy rhythmic swing, embellished by delicately poignant lyrics and warm instrumentation.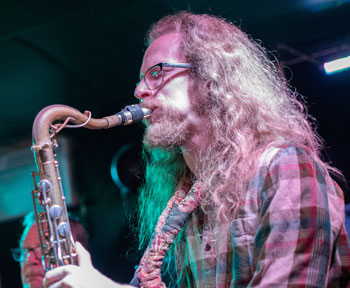 Dripping with banjos and mandolins, "Mama's Shakin It" is a sweeping, barnstorming tribute to Casey's mom. "I realized one day that I've written songs about scoundrels, songs about lovers, and songs about myself, but never a song for my mom," clarified Casey. This is it. "Always Gonna Be There" is built on a swampy blues motif, with plenty of reverberating vocals and moaning guitars.
"Everybody Needs Friends" (ft. George Moye, Allen Kirk, Marcus Bell, Reid Ziolkowski & Mike Arceneaux), is exactly what the title suggests – "a tribute to the people who make my life fun," states Casey. If you're interested in a feel-good, groove driven jam that sounds as spontaneous as it does tight, this is the pinnacle. It hardly gets better.
"Learning To Love" is a beautiful album – the production and engineering is incredible (as to be expected from Casey Frensz), while the arrangements are just phenomenal. It may be worlds apart from your mainstream fodder stylistically, but there's a cohesion and purity to this record that the most unassuming music fan will easily come to appreciate, with an open mind. For the rest of us progressive and groove heads, "Learning To Love" is simply orgasmic.
This is another crowning achievement from Casey Frensz – one of the more intelligent musicians in the underground music scene these days – someone who is continuing to stretch their compositional and instrumental chops into delightfully complex and engaging sonic territories, and is highly competent at it.
OFFICIAL LINKS: WEBSITE – FACEBOOK – BANDCAMP
Please follow and like us: