I think Young'n Nino is one of the more intriguing rappers to show up on my hip-hop list. Many of his songs are pretty left field, and it's really fun to listen to him rap because of his knack for catchy off the chart flows, and otherworldly nuancing. You can listen to all of his creative and performance idiosyncrasies on the tracks, "Ten Toes", "Soul Searchin" and "It's Over". When you're done, check out "Para Ti", which is his most unusual track to date. It is also a testament to the artist's continued skill and ingenuity, and a glimpse at ideas still taking shape.
"Para Ti", runs at a slower than usual pace, and is awash with smooth shimmering instrumentation. On top, Young'n Nino flexes his deep-voiced, drawn-out, one-of-a-kind angular flow.  One of the rapper's great skills is his ability to unravel his narratives with a nuance that allows him to sound deadly serious, credibly engaged and charmingly goofy all at once. Currently, there is no other rapper that sounds quite like Young'n Nino, right now.
Young'n Nino dashes off punchlines, boasts, and antagonisms at an impressive rate on "Para Ti", but in a stable laidback tone that renders the hardest-hitting and crudest sentiment, easy on the ear and witty to the mind. The not too complex production offers up plenty of moments for Young'n Nino to flex this gifts, while also wisely imagining new contexts for it.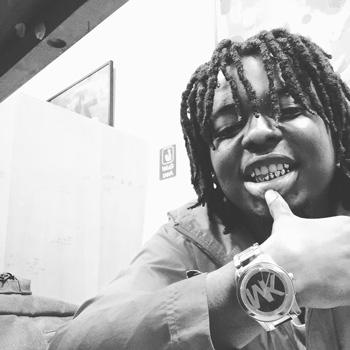 Whether "Para Ti" is suggestive of where Young'n Nino plans on taking his music down the road can't be said for certain, but it provides a certain sense that his music is only getting deeper and more expansive. This single not only asserts his kind of creative importance to the current underground hip-hop landscape, but furthers his artistic progression in the process.
As mentioned previously, Young'n Nino's flow, is one of the most unique hip-hop has seen. This matches his sense of lyrical wit, which is mindboggling. While his peers and more famous contemporaries receive attention from casual mainstream rap listeners, Young'n Nino, himself is focused on producing music for those underground hip-hop fans looking for something truly different to enjoy.
The vocals on "Para Ti" are a highlight for me. His vocal inflections all throughout the verses are hypnotic and interesting. Young'n Nino has a way of switching his flow and creating such a strange vocal tone that it will surprise you at first. The combination of street level lyrics and chill production, while maintaining an interesting flow and unique vocal inflection is something that you cannot get from many other rappers today.
The sound heard on "Para Ti" is certainly not something the hip-hop listener will have been prepared for. Here the Palm Beach, Florida based Young'n Nino, delivers more than enough to peak listener interest for the length of the runtime, making it a surprising and more than satisfying listen. I think if Young'n Nino can build on these sounds and keep adding to his crazy flow, he could be finding the main spotlight not too far up ahead.
OFFICIAL LINKS:
https://open.spotify.com/artist/4504dYAROKqbKbMTgHjfjC
https://soundcloud.com/young-d-30
Please follow and like us: