One Step From Everywhere is a Seattle based band that does not limit themselves to genre or style. Primarily a rock band, with a passion for playing live, they are not afraid to add shades of any style that may strike a chord within them.  Their album, "Somewhere In Between", is a full and complete artistic statement that can function equally well as an introduction to and summation of the varied strengths of this band. The production and engineering also aids immeasurably in this regard. The sumptuous mixes place the listener deep within the instrumental interplay of a band whose natural chemistry allows them to navigate the somewhat more structured likes of the outright rocker "Back to Eden" as adeptly as they do the more open-ended approach of "Do Some Living".
Throughout the nine cuts, the four man One Step From Everywhere demonstrate a grasp of dynamics that can only arise from such chemistry – though it can be, and probably was honed by assiduous practice and roadwork.
The combination of jangly strums and soul-stirring lead guitar strains within the arrangement of the title track, "Somewhere in Between", are as striking as the piano-driven edginess within "Toward the Unknown", which itself has an impact almost as resounding as that of the cacophonous groove of "Cherry Wine" which switches between acoustic and electric embellishments.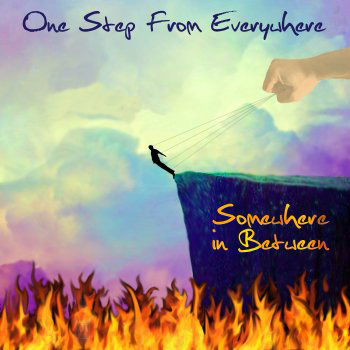 The aforementioned tracks provide an ideal setting for the densely-layered freight train rhythm of "Wings in the Wind", which is filled with crunchy guitar riffs and thumping basslines. It's a tribute to One Step From Everywhere's innate sense of direction and self-discipline which never ends up diluting the purpose and focus of their work.
Simply put, they get to the heart of their songs very quickly, eschewing any meaningless meandering. The band recapitulates its core strengths without repeating itself through the course of these tracks, creating alternate versions of themselves.
The sound of "All Them Good Times" hits home immediately as its massive mix reverberates even at low volume at the same time it radiates a sense of how much fun these four men have when they play together.
"Get It Loose" with its saxophone interludes and rockabilly rhythms, is the most diverse, and surprising track in the collection, and not exactly what I was expecting as the album closer. Either way, "Somewhere in Between" erects a cogent musical statement from a band that doesn't pander to any predetermined trends.
In the end, One Step From Everywhere is a rare rock 'n' roll group with a free-spirited heartbeat, a quality that distinguishes the finest rock bands across time. As a recording and performing unit, they generate an insistent rhythmic thrust, adorned with fiery guitar work, and soaring vocals, turning in spectacular, high energy performances.
The album threads together all those moments of tried-and-true virtuosic, vibrant, and vital rock. "Somewhere in Between" is definitely not the typical overplayed garbage that is out there aplenty. Thanks to One Step From Everywhere for putting this out.
OFFICIAL LINKS: WEBSITE – FACEBOOK – YOUTUBE – TWITTER – INSTAGRAM – SOUNDCLOUD – SPOTIFY – BANDCAMP
Please follow and like us: