Formed in Aurora, Illinois from a diverse set of seasoned musicians each with their own straight up, hard edge style, Kadooge is unapologetic and unrelenting alternative rock band that has released its 12-track album, entitled "Nothing is Almost Everything".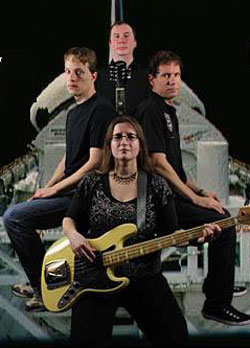 Depth, layers, twisting and turning textures, this is what "Nothing is Almost Everything" is all about! The seething, boiling rage of metal is there – pure and untouched. It's just channeled and expressed with maturity, nuance and sophistication. Kadooge make use of texture, contrast and atmosphere in the music on this album to get their point across. It makes the music more compelling, dark and haunting.
Listen to the brilliance of the back to back opening tracks "Middle Man" and "Hold My Breath" to hear what I mean – brooding rage played with grace and finesse. But there's plenty variety here, different song structures, experimentation with varying beats, layers and instrumentation, more contrasting sound choices. Check out diverse sounding tracks such as "Broken up in Places", "My Shell", "No Surprise", "Stuck On The Wall", "Leave Us Alone" and "Bury The Truth". They all bear the classic Kadooge mark – relentless, biting guitars, pounding bass, precise, grooving drums, and keen, expressive vocals, yet they tread differing rock styles.
Tony Montana's drumming is full of precision, monstrous grooves, tension and release, as well as coloring and subtlety. Patrick Goode gives the songs breath, momentum and finesse. There is modulation and shading to his vocals, with a distinct sense of melody and nuance. Aerie Dover's bass skills and Quentin Dover's six string are even more awe-inspiring and add to the overall eminence of the "Nothing is Almost Everything".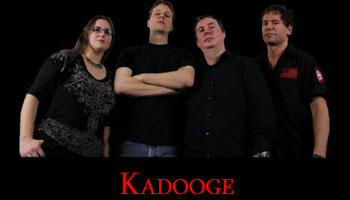 This is a very easy album to get totally lost in. The guitar grinds, blisters and bludgeons the ears, while the bass is deep and rich and the whole album has a very hypnotic intensity to it. In this new epoch of marketing campaigns and commercial artists, its finally great to see a band succeed without having to stoop to the pretentious and utterly ridiculous level of some of their, dare I say it, 'peers'.
The album is absolutely wonderful not just for its frenzy of musical instruments that take you up and down like a roller-coaster or because of the outstandingly relatable lyrics, but because it's filled with more great, smart musical ideas than most alternative rock bands have ever thought of in their entire careers. Kadooge really hit the nail on the head with this recording. Here they emerge out of the quickly deteriorating alternative rock scene as clear masters and innovators of their style. Every track drips with gritty, atmospheric intensity and there's not a weak track in the batch.
OFFICIAL LINKS: ITUNES – WEBSITE – REVERBNATION – FACEBOOK – TWITTER – INSTAGRAM – YOUTUBE
Please follow and like us: