Arpad B. was born in Budapest, Hungary, but is based in Sweden and has lived in the USA for 4 years, giving him a fondness for tight beats and a sharp lyrical flow. His catalog boasts a host of critically acclaimed singles, EP's, albums and mixtape releases. Not least his latest 8-track release – "The Question". Let's clear up one point, straight out of the box. Notwithstanding the fact that he is a European-based rapper, Arpad B. flows as well as any other rapper out there, if not better!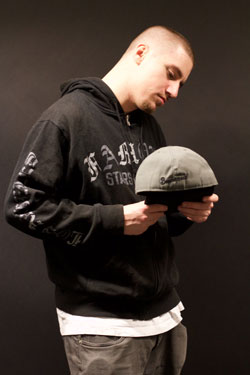 Arpad B. is one of those rappers that comes along every once in a long while and knocks the hip-hop community onto its collective rear. "The Question" is an amazing album. Once again Arpad B.  proves he is one of the best rappers in Europe. It's great to have someone as creative as him and how he raps about so many different topics to cover every emotion or feeling. He is not just rapping about cars, money, and hoes. Arpad B. keeps you guessing. It sometimes sounds like he's rapping for the masses, but more often it sounds like he's rapping for personal catharsis. Sometimes his raps are alarmingly direct, sometimes ironic.
Arpad B.'s genius wordplay flows incredibly through each beat with finesse in syllable emphasis. Just sit back and listen to some of the rhymes in these tracks, and try to recite some of them, it's insanely hard. And the blending of producers like Buddah Fly, Max Million Beatz and Phami into this collection of songs makes this perhaps his tightest album yet. Al the features too, bring quality to the table.
"The Question" seems to be Arpad B. breaking out of the flood gates and re-energized. Somehow he manages to span an entire gamut of oscillating emotions, from the extroverted "Everywhere We Go Feat. C-Nature & MC Bravado [Prod. By Buddah Fly]" and "We Up Feat. Freck Billionaire [Prod. By Max Million Beatz]" to the more introspective "I'm Get Mine [Prod. By Buddah Fly]" and "This Is My Story Feat. Gustaf Karlsén [Prod. By Max Million Beatz]".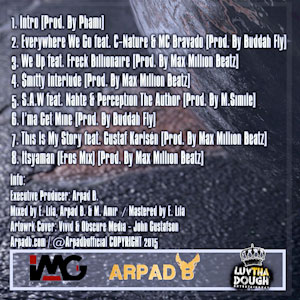 His wordplay is as wordy and playful as it has ever been, and it is evident in such killer tracks as "Everywhere We Go Feat. C-Nature & MC Bravado [Prod. By Buddah Fly]". If you're a long time Arpad B. fan like me then you will be pleasantly surprised by this album. Once again he has constructed a work of art from start to finish as he dishes out lyrical assaults throughout the entire album.
Arpad B. is an artist, who paints imagery through lyrics, tells stories and creates some catchy moments. Every song is great in my opinion. Each with a different story, mood or vibe that makes you want to rock out. His flows are flawless and his rhymes are hard Arpad B. is truly evolving with each release he comes out with.
OFFICIAL LINKS: WEBSITE – FACEBOOK – TWITTER – INSTAGRAM SOUNDCLOUD – YOUTUBE – DOWNLOAD STREAMS
Please follow and like us: