Hope Darling is an alternative/modern rock band based in the Tampa Bay area. The members state that they are "a band of friends and family who share the same love for music, influenced by each of their own musical heroes, and are fortunate to have the opportunity to live a childhood dream." The name Hope Darling has deep meaning for the band and was taken from a beloved person who passed away a few years ago.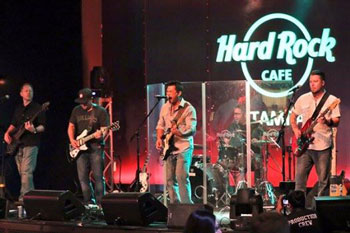 The band is made up of Gabriel Sanchez (Lead Singer), Patrick Brown (Drummer), Tan Tran (Guitar), Greg Loehr (Keyboards) and Rob Gamble (Bass).
Their sound is uplifting and melodic, with a crunchy edge. Patrick and Rob provide a solid rhythmic foundation for Tan's guitar, Greg's keyboards and Gabriel's vocals. Their 5 track EP is without filler, a collection of songs with different flavors that fit together as a cohesive unit.
The passion truly rings throughout the entire EP. These guys are no holds barred, no nonsense rock, with great lyrics, awesome guitar riffs, and excellent production quality. As is the case with any serious rock band, the cherry on top is provided by Gabriel Sanchez's far-reaching vocal chords.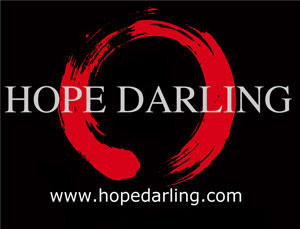 Hope Darling is a modern band who actually does real rock music, while throwing in some beautiful, well-rounded keyboard sounds into their arrangements – case in point the epic, ever-climbing single "Lifeline". This gives their sound that radio-ready edge. It has a strong rock soul with great pop flare and a beautiful melody.
Hope Darling lives in the neighborhood of alternative rock somewhere between The Muse and Coldplay. It would be enough if all the band had to offer in their self-titled EP was their seamless sound. But the unique energy put into every track is what keeps the EP from sounding like 5 versions of the same song.
"In and Out Again" and "Savior" have a frantic, soaring energy that seeps through the speakers while "Maybe Someday" is a lighter, all-engulfing song with a softer melody.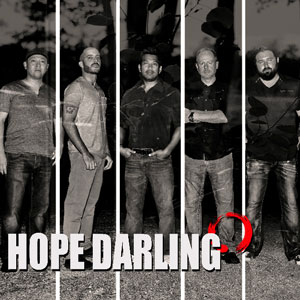 Hope Darling is one of those bands that you can't help falling in love with and routing for.  They blend everything good from the rock history books – melody, harmony and full-blooded emotion – creating work that is both current and catchy, while being complex, touching and ultimately classic when they need to be.
These are brilliantly written modern rock songs that demonstrate the genre is not going to die quietly. In fact, I believe Hope Darling is setting the standard to how modern alternative rock should be played today.
Each song brings an interesting concept to the listener; with enough twists and diversity that balances the musical hooks just enough to keep the music on the rock side of the equation rather than the pop side, which however is necessary if you are to make an impression on the masses.
To sum it up, Hope Darling's EP contains an emotionally driven set of songs that do not skip a beat with its energetic instrumentation of pulsating rhythms breathing life into the band's sound. All of the tracks are soul-stirring and intense, and indelibly tinged by truly inspiring vocals.
OFFICIAL LINKS: WEBSITE – FACEBOOK – ITUNES – REVEBNATION – TWITTER
Please follow and like us: