THE ULTRA is an atmospheric electro/rock duo comprising Joel Alexander and Paul Dogra who both live in Walthamstow, East London. The duo, who have just been signed to Platform Records, are preparing to soon release their single "Universe in Two", taken from their debut EP When 'The World Turns Out Its Lights'.
On this single, THE ULTRA obviously exploits their strengths: The dense, bass and synth-heavy composition and the pleading, sultry vocals and unusual melodies. "Universe in Two", also delivers user-friendly, pop-oriented, big-choruses.
Though not totally wanting to redefine the genre or attempting anything too experimental musically, the band updates past creative explorations and influences to craft a track thick with atmosphere and sonic suspense.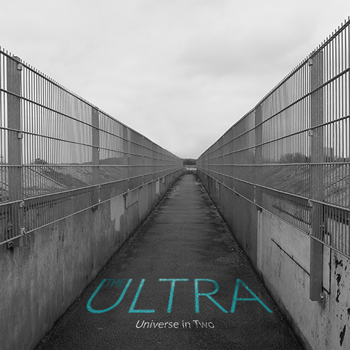 The similarities to Depeche Mode are clearly audible but THE ULTRA is not another ostensible nostalgia act playing out waning variations of music from past glories – even though I wouldn't quite call DM a past glory.  It's just that THE ULTRA has that same dark ambience and rhythmic electronic drama.
Their freshness comes through in the delivery, which is as loose as electronic music permits, delivered with a soulful rawness that the vocals keep constant throughout the track. Another particular step seems to be the injecting pf enough modernity into what would be an alternative industrial framework to sound absolutely current, without resorting to gimmicks or relying too much on uncharacteristic methods.
It's important to remember that THE ULTRA should as much edge older electronic fans into their contemporary musical scenario as it should be capturing new fans. "Universe in Two" accomplishes this with astounding neatness, though the duo's use of electronics provides the perfect platform for integrating this kind of update.
They go one-step further by taking a few modern-sounding effects, crossing them with the darkly melodic hooks, an organic-sounding piano line, profound lyrics, sweet background harmonies, and the song almost seems to write itself.
It's these touches that establish the track's professionalism and demonstrate THE ULTRA's gift for wringing the best out of their own core elements, resulting in a strong release for the electronic duo.
OFFICIAL LINKS: WEBSITE – FACEBOOK – TWITTER
Please follow and like us: