Stories & Morals is not simply a title, but singer/songwriter, Anthony's way of expressing his life experiences through music. Growing up in Massachusetts, Anthony was subject to a tough upbringing, enduring abuse in both a mental and psychical sense. Confiding in music for a spiritual release, he found his muse in guitar and drums at the age of thirteen, only beginning to take seriously his voice two years later.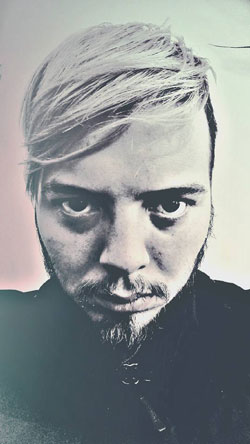 Anthony writes and records all his music in a home studio with minimal recording gear. This multi-instrumentalist has already self-produced his debut EP as Stories & Morals entitled "Before I Self Destruct" which was released late 2014. The Stories & Morals project has just released a brand new single entitled "Read Between the Lines", off the new upcoming Self-Titled EP. The single is currently available as a FREE download from Bandcamp.
"Read Between the Lines" does not disappoint. It is a nice slice of good old rock music, perfectly paced to nod along to with a pint in hand or jump around like a lunatic to. It's got the catchy guitar licks, infectious drum beats which will get you tapping along with your fingers or air-drumming along. Those sing along chorus sections have plenty of attitude to match. On the whole it is a nice kick back to the 80's style rock sounds we all love but with a more modern indie rock twist. What it displays in rawness in some parts, it more than doubles up for with the energy and the passion it delivers.
I honestly expected this to be rubbish from an un-established band…it isn't! The riffs, vibe and subject matter all tick the boxes. One of the most positive things about the track is the rhythm section work. It is powerful yet not overly-flashy, almost Bonham-esque in its raw approach to the groove. I would love to see this track get the proper exposure on both sides of the Atlantic so that Stories & Morals gets the exposure that his sheer talent deserves. But we all know that real talent isn't rewarded with a high placing in the charts.
Anthony experiments with progressive, melodic, classic rock and emo flavorings, and has really elevated himself to a whole new level with "Read Between the Lines". If you've never heard of or listened to Stories & Morals, I'd suggest you start now with this single release, being a FREE download leaves no excuses for not doing so!
OFFICIAL LINKS: FACEBOOK – BANDCAMP – YOUTUBE – INSTAGRAM
Please follow and like us: