A Greenville native, OGD began rapping at the young age of 11 as part of a group called Black Money Entertainment (BME). However after a series of altercations on the street that led him to be shot, which put OGD temporarily froze his career until he recovered. After which time he decided to go solo, dropping his debut single "Every Single Day," to a fair amount of buzz. This led to the new group Slum Familia, who kicked things off by winning hottest in the state via Coast 2 Coast Magazine.
Yet again setbacks leered its ugly head forward – the group was temporarily split up after a drug charge had them expelled from college. An altercation on the night of the Super Bowl led to OGD's cousin being shot, which further complicated any musical or career plans.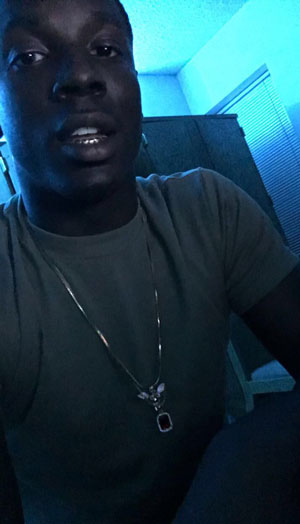 OGD ploughed ahead by first enlisting in the army, and then using the money he earned to buy studio equipment. Soon the Greenville native dropped his debut mix tape, "Enemies, and Neighbors", and now his brand new 11 track trap collection, "Black Franklin", which he dropped early last month.
OGD has delivered a crazy bouncing, banging collection, boasting so many musical collaborations it's almost hard to count. Taking the hard world of hip-hop and fusing it with intense trap beats that shake your body makes for an album that isn't for the faint of heart – the parental advisory warning is more than warranted on this one.
The energy that OGD exudes is what keeps the album entertaining. He's a lot of things, boring isn't one of them. You'll love his enthusiasm and trying to decipher the cryptic, tongue-twisting lyricism, especially since OGD switches tones and flows often.
Production is a huge reason why he's able to wreak havoc lyrically. Each beat hits with the strength of a giant swinging his axe. The instrumentals aren't too intricate, but constructed to hit hard, drums explode, and the basslines are drenched in a thick syrup, while OGD's hypnotic voice doesn't overwhelm the beats but works in a strange unison adding the extra color that brings it all to life.
The cover art is indicative of the themes contained in the mixtape hosted by Atlanta-based DJ ASAP, and makes a bold statement, showing OGD's fearlessness, and is in itself a brilliant display of OGD's talent. This project stands apart from OGD's previous works in that it sounds more thought out, but it still has the authentic, playful and fun-filled style we've come to expect from rappers who bathe themselves in trap.
To be fair OGD alternates between thunderous trap rap and airy hip-hop, a collection of beats that is appropriately spacious and balanced for him to be both comfortable and chameleonic. From track one to the closing bar on the final track, OGD allows his wildest impulses to flow without restraint.
OGD is both focused on showcasing his current clout as he is in establishing a solid base of collaborators. If you want true avant-garde experimental hip-hop, you're better off looking elsewhere. If it's a banging, melodic, and cohesively produced collection of trap-rap songs you're after, you could do a lot worse!
"Black Franklin" shows that OGD is slowly honing in on that perfect blend that will eventually launch him into the stratosphere. Essential tracks: "All I Want is Money", "Riches Ft. Oz Drez & Fernando", "Grams Classik & OGD", "Hands Tied Ft. Classik", "Really With it" and "Face The Facts".
OFFICIAL LINKS: TWITTER – INSTAGRAM – SOUNDCLOUD
Please follow and like us: