Grand Tradition are a collection of musicians from Cardiff put together and fronted by Anthony Wickham (Vocals, Guitar) and completed by Cat (Keyboards), Llew (Bass), Erin (Backing Vocals), Django (Drums) and Beth (Backing Vocals). Inspired by Steely Dan, Stevie Wonder and Ry Cooder, the band blend groove based rhythms and jazz styled chord progressions into their songs. Their debut 5 track EP, "Your Wish", was produced and recorded by Nick Brine (Teenage Fanclub, The Darkness).
Grand Tradition consists of six people butting heads against the natural order of pop music. This is a collective that could easily become heroes to a generation of brooding intellectuals tired of the current wave of popular music. "Your Wish" has everything they will love: thick bass lines, funky-yet-restrained rhythm guitars and keyboards, as well as intriguing vocal charts and harmonies.
Grand Tradition blend many styles, providing unexpected twists and turns, evoking diverse emotions, with all of this always conveyed via superb musicianship and a sound quality which is beyond many out there. They strike me as artists who are genuinely unique and interesting people, have a clear artistic vision, and have a virtuosic and perfectionistic ability to make their vision a reality through their music.
The music on "Your Wish" is harmonically very interesting in a way that grows more apparent with repeated listening. You'll need to listen really closely, beyond the apparent rhythms and subtler counter rhythms, because the real music is inside the music you hear on the surface.
These songs are wonderful, soulful, classy, cool, sophisticated…but that's just on the outside, because down below in the engine room there is complex rhythmic structures, stunning chord progressions and colorful harmonics at work.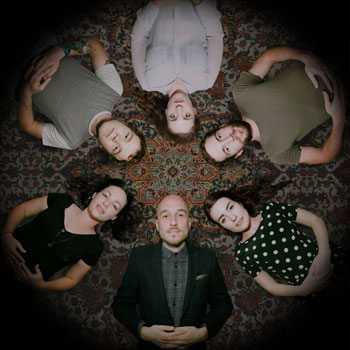 But the sheer beauty of a band like Grand Tradition – and it is here that they remind of Steely Dan – is that you can just soak-up the bliss of the melodies and the beats, never needing to look any deeper to experience pure platonic enjoyment. Yet the minute your musical acumen needs to peel away the layers and look inside the specifics, you will find a wealth of musical technicalities to relish in.
"Your Wish" is a sharply crafted, completely unique and satisfying experience from start to finish. The band is also tight in executing the complicated arrangements, as can be heard on "Forget About It", but just as smart in building intriguing rhythmic grooves like on the title track, "Your Wish" and "Drop".  
Every instrument is so clear and distinct, and everything is in balance. Please note that the quality of the music is only limited by your system – particularly your speakers – any weakness here will result in less than ideal sound. And that will be a shame, not to mention a disrespect to the work this band and the production have put in, to create an almost perfect sound palette.
When more artists realize that popular music can actually be an art form, the result will be more releases in the vein of "Your Wish" – an extraordinary level of melodic, harmonic and rhythmic refinement.
OFFICIAL LINKS: WEBSITE – SPOTIFY – FACEBOOK – TWITTER
Please follow and like us: