Bringing in their sophomore studio EP, "Take Control", Detroit rock band Morrow's Memory doesn't disappoint! In the current realm of rock music today, Morrow's Memory blends in perfectly with the radio-rock sound that has been done by Breaking Benjamin, Three Days Grace and Theory of a Deadman.
But, unlike TOAD, who incorporate lyrics regarding bashing women and stuff, Morrow's Memory has always written lyrics that are straight from the heart and more poetic.  If you like good hard rock that isn't pushing the borders of screaming obscenities into your eardrums, then this is a great band to pick up.
"Take Control" is a vigorous, empowering, never-stopping set of rock tracks that hits you fast and hard. That's a good thing, since Morrow's Memory legacy is built on such aggressive-yet-cathartic sounds, all held in place by singer Tony Fitchett's thick, soul-soaked vocals and the pensive lyrics.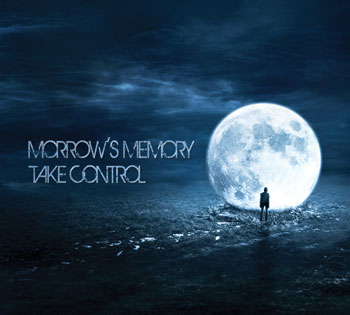 In 2009 the band kicked-in with their ideal line-up which, apart from founders, Zach Novak (Drums) and Joe Wolford (Lead Guitar), included Tony Fitchett (Lead Vocals), Brian Sasanas (Vocals and Guitar), Scott Sarnia (Bass), and Mike Fritz (Keyboard). Prior to the release of this, their latest EP, the band announced two lineup changes, which included new members David Locklin (Guitar and Vocals) and Steve Berry (Bass).
It's hard for bands to continue to grow and evolve without alienating their core fans. With "Take Control", which is scheduled for worldwide release on July 23rd 2016, Morrow's Memory has continued to challenge themselves creatively, without getting too far away from what makes them great. The songwriting is melodic and catchy, but still showcases the aggressive side of the band.
From the beginning of the album, Morrow's Memory comes out swinging with the fist pumping, excitement-igniting opener, "Bloodlust". Listening to "Bloodlust" it's easy to imagine Tony Fitchett's stern face belting out the words in front of a large crowd at the beginning of a late night show.
The rest of "Take Control" stays true to the typical Morrow's Memory form. Songs like the standout, "Find My Own Way" will again raise the fists and spirits of the defeated and the survivors alike, while songs like "Ones And Zeros" show a lyrical snarl and a lot of attitude from the Detroit natives.
The tempo of "Take Control" is constantly shifted, a technique which works extremely well in this outing. "For You" and "Sapphire" bring the listener the musically softer, yet no less lyrically potent, side of Morrow's Memory that we have seen in some previous songs. This EP will get much appreciation from fans, and perhaps stacks of mainstream radio appearances.
For me, "Find My Own Way" and "Ones And Zeros" with their grinding guitar riffs, thumping rhythm changes and soaring vocals, will steal away much of the attention from the rest of the EP, but when it is all said and done, this is a brilliant Morrow's Memory record, and that is a great thing for listeners either side of the coin.
Settle in, and allow the band's rampant rock mechanics and methods, to manifest themselves, and you will be glad you did. For fans of the band, and of hard alternative rock in general, "Take Control" will be one of the year's best.
OFFICIAL LINKS: Home – Press Kit – Facebook – Instagram – Pandora – ReverbNation  – Spotify – YouTube
Please follow and like us: