Acclaimed for their high octane live performance, Jacko Suede formed in 2012 and have since gigged relentlessly, with dates including the 35 Denton and Oaktopia festivals, as well as sharing the stage with numerous national acts including Grammy winners Imagine Dragons. Their new EP "Abandon Ship" comes out 3/17/2016 with full tour plans in the works. Never was the timing more correct then now to breathe a breath of air into the dying lugs of the current music scene. Punk and Emo is just about dead and buried, and everything else is pop or rock with corporate influences dragging down all creative potential, lyrically, and musically. This is one of a handful of recordings in a long time without having a guy hitting a synth note for five minutes and a girl moaning, with percussive noise creeping up in the background. This is unpretentious art. It not only achieves this status but is also fun to listen too. Jacko Suede is a refreshingly different band in a day full of copycat rubbish.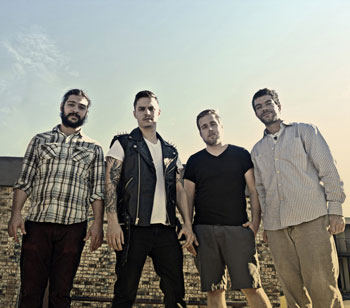 I didn't know these relatively unknown (to me at least) guys, were capable of making such an amazing EP. I kind of compare it to the first time I heard My Chemical Romance and was blown away. These guys have serious chops, and the album has quickly become one of my favorites. Even with cascading riffs, powerful vocals, and bouncing choruses, Jacko Suede enlists an underlining layer of trickery. Isolating these moments takes many listens, but inevitably adds incredible depth. The delivery of the lead vocals generates tangible visions of the lyrics. This furthers our attachment to the work because that is how it should sound and feel. It's not sound for the sake of sound, but emotion for the sake of tone. You hear hundreds of  singers trying desperately to sound intensely energizing, in harmonizing the melody with the articulation. The Jacko Suede vocalist confronts this concept head on, and nails it.
The overall pacing of "Abandon Ship" is flawless. Jacko Suede controls the tempo, offering needed reprieves before plunging back into the fray between choruses and verses.   The music is melodic, rock-solid riffing, and a good mix of production and grit. There is also something to be said on the craftsmanship of this EP, each song sounds masterfully produced. The genres of pop-punk and rock are blended effortlessly. Songs like "California", "All This Time" and "Carry On", shows Jacko Suede's ability to create songs that have fantastic gang vocal sections and upbeat pop-punk influenced choruses. You also aren't likely to easily forget powerful tracks like "Abandon Ship" and "Nothing More".
This band, ladies and gentlemen, is an alternative punk rock band that you should be proud to introduce to your friends and family. In a flat sea of indie, lo-fi and new age music, Jacko Suede clearly stands out and brings out waves of hard-hitting solid rock, while adding its own refreshing punk spin on it. No question about it.  I am really hoping that this band doesn't lose steam, and in their upcoming efforts can continue to impress as they do on "Abandon Ship".
OFFICIAL LINKS: BANDCAMP – SOUNDCLOUD – TWITTER – FACEBOOK
Please follow and like us: