California, USA – Northern California rap artist SpenDoe releases new single titled "Changing Lanes" which is now available on all digital music sites. SpenDoe has established himself as a true positive leader and motivational rapper with his new single titled "Changing Lanes".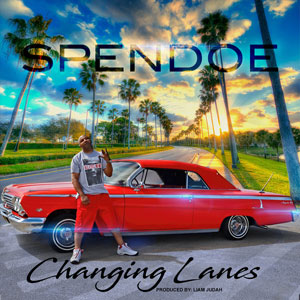 His incredible upbeat attitude, motivational songs and positive energy combined, make him one of the most sought after rap artists in the business today.
Having previously released his g-funk inspired single 'Living Life Fast' produced by Liam Judah, remixes by U.K. producer 2Darc, and Northern California based producer/rapper C-DUBB were also made and distributed on CD and digital formats. All versions are great tracks and have received enormous amounts of feedback.
SpenDoe sets to gain a wider audience with his new single "Changing Lanes". Liam Judah's fully embellished production compliments SpenDoe's vocals, which goes deep into his own life experiences with high quality lyrics, captivating flow and sound. The single will make you understand SpenDoe as an artist and as a man.
SpenDoe was surprised himself with how the recording came out. He said the following: "I'm still in shock. This song was real personal for me. I went in the lab and knocked it out in 15 minutes. Liam Judah is amazing with his production skills. This is definitely me changing lanes, its growth. I'm switching things up a bit."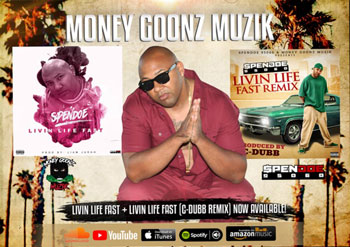 SpenDoe had earlier announced on his Facebook account about the release of his new single which is currently available for download on all digital music sites worldwide. An artist with so much passion for music, SpenDoe seeks to enlighten the world on a life journey of dealing with daily ups and downs, avoiding temptations of the street and navigating through life by "Changing Lanes".
He lyrically expresses himself in the deepest way to send out the message of his struggles as an artist. This single is a plus in today's music world. It is much needed as the rap/hip hop genre has suffered in recent years without the great vibes displayed throughout the single.
With what has been heard so far, the new single is shaping up brilliantly rather than attention grab or mainstream pull. SpenDoe seems to have put his truest ideas into creating the single "Changing Lanes" with catchy hooks, artistic lyrical flow and great content.  This single is a must listen from an artist who seeks to create a real impression in the minds of his listeners.
OFFICIAL LINKS:
https://www.instagram.com/spendoemusic/
https://www.facebook.com/OfficialSpenDoe
https://itunes.apple.com/us/album/changing-lanes-single/1433973437
https://www.amazon.com/dp/B07GS3YYN2/ref=cm_sw_r_cp_api_MysHBbNM1XBBT
Please follow and like us: