Tashan Larmond better known as BowcieTT is of mixed Jamaican and English descent. He writes, composes, produces and engineers his own music. BowcieTT has been keen to be a musician since he was 6 years old, learning to play piano from his musical father.  He is an RnB singer as well as rap, hip-hop and trap artist. His music is available on all music platforms.
How long have you been in the music business and how did you get started in the first place? 
BowcieTT: I have been in the industry for around two years now although I have always had a passion for music. From a young age I was taught to play piano from my musical father and creating melodies from simple chords inspired me to divulge in music.
Who were your first and strongest musical influences that you can remember?
BowcieTT: Well, when I was around 2 years old, I had an obsession with Michael Jackson. I remember prancing around the front room to his music. I was so infatuated that I use to watch thriller every morning with my weetabix! I always have ears for the music of artists such as Ne-Yo, Maxi Priest, Bob Marley, Famous Dex, B.I.G, Kano and many other influentials.
Which artists are you currently listening to? 
BowcieTT:  I tend to go through stages in which my musical preference can change quite drastically. For example, at the moment I am listening to artists such as Famous Dex, Playboi Carti, Migos and YNF Nehmair, yet, I am not shy to listen to the likes of Vybz Kartel, Alkaline, Bob Marley, Usher and even some Lilly Allen.
What do you feel are the key elements people should be getting out of your music? 
BowcieTT: Passion is the main aspect alongside innovation and emotion. I inspire to portray my love for music, whether it be with a bouncy, trap/ hiphop track or a slow, sensual Rnb track. In reality, I make music that I am feeling at the time of recording, offering a range in scenarios and situations in which many can relate.
What do you think separates you from the crowd of artists emerging right now? 
BowcieTT:  Many artists tend to find the genre that works best for them and limit themselves by only associating within it. When producing Rnb tracks, I like to integrate some of the aspects from trap and rap, not only to show versatility, but to offer "a little something to everyone".
Do you currently have a preferred song in your catalog, and why is it special to you? 
BowcieTT:  There are many songs that I favor, although, my favorite is a track called Angels. I open up about my childhood, and for the first time, am able to be free from something that has influenced me my entire life.
Are your lyrics predominantly based on real events and personal experiences, or are they drawn from your creative storytelling skills?
BowcieTT: Usually, I will talk about past experiences in a way that appeals to listeners. Yes, that means from to the trap… to the love songs…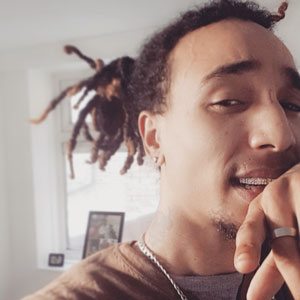 What would you consider a successful, proud or high point in your career so far?
BowcieTT:  Initially, I started my career as an artist two years ago. In this time I have seen progression and development every day, so in all honesty, I feel the best is yet to come. There is always room to improve and expand skills; every situation in life offers a way to do so. There are hurdles that you encounter when chasing your dreams, yet they do say, it's not the destination, it's how you get there.
What has been the most difficult thing you've had to endure in your life or music so far?
BowcieTT:  Being from an area where there are not many opportunities for upcoming artists, you are forced to learn to adapt and become independent. Many legends have started out in situations where they are not able to fully express themselves, yet, achieve greatness with perseverance and hard work.
What key ingredients do you always try and infuse into your songs, regardless of style or tempo?
BowcieTT:  I always ensure that my songs have "easy to follow" lyric patterns and catchy hooks. One of the most important aspects to a track is a catchy hook that draws in the attention of The People. When you think of your favorite song, chances are, it's the hook!
Do you produce the beats and write all the lyrics on your songs or do you collaborate with outside sources in any of these cases?
BowcieTT: I mix and master, write, distribute, record and manage all of my material, although will often collaborate with other artists for the creativity of varying producers. My own created beats are usually treasured. A few have been used for commercial purposes, many staying personal.
How did your collaboration with Jay Felicite come about, and what was the experience like?
BowcieTT: Jay Felicite has played a huge influence in the founding of my career as an artist. Before I dedicated all of my time to music, I made beats on Fruity Loops in spare time as a hobby. Jay would often show me new ways to produce catchy rhythms and gave me the necessary tools required to 'find my voice'. From the moment I met Jay Felicite, his music and authenticity has inspired me to stand strong as an independent artist and feel comfortable being unique. We have collaborated on several previous tracks, including "MEDICINE". Our voices are both very versatile and we collaborate well together. MarilynMonroe was written by both myself and Jay Felicite, expressing the connections between previous experiences.
Which aspect of being an independent artist and the music making process excites you most and which aspect discourages you most? 
BowcieTT: Being a passionate musician, my main aspiration is to enjoy myself. Yes, there are tracks that I have produced in which speaking about past experiences and happenings is the main aspect of the track, but, I do like to make music that I like. One thing that listeners know when hearing music from BowcieTT is originality. All of my tracks come from my current moods and my lyrics are written on the scene. I do not call myself a "freestlyer" as I tend to be able to write from the top of my head rather than verbally free styling. This can be a problem though, as not everybody has the same outlook on music and the music industry as a whole. Many of the mainstream music leaders want commercial based music (music that sells) over "from the heart" tracks.
If you had the opportunity to change one thing about how the music business works right now, what would that be?
BowcieTT:  Allowing people to freely create at their own will should be the main priority. In recent years there has been a lot of hate towards the genre of trap and the sudden change of hip-hop and rap.  This is merely evolution of music, many of these artist are making these songs, BECAUSE THEY LIKE THEM. As I said before, music is supposed to be a way to express yourself, so if you make something different to the regular, you shouldn't be judged or slated because of it!
If someone has never heard your music, which keywords would you personally use to describe your overall sound and style?
BowcieTT: Catchy, Smooth, Dubious and Impassioned. From the upbeat, bouncy Rap and Trap songs to the slow and soft Rnb/ Hiphop songs, BowcieTT delivers a range of harmonies, melodies and deep felt lyrics that infuse your ears with a unique style of lyrical deliverance.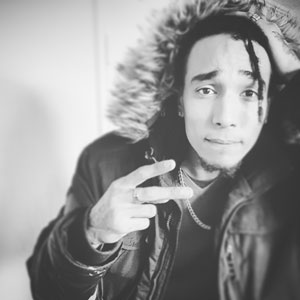 Do you consider Internet and all the social media websites as fundamental in building a career in music today, and what is your personal relationship with the new technology at hand?
BowcieTT: In all honesty, to get anywhere in the music industry, you need to have an established group of loyal supporters. The best way to, not only expand the number of this group, but deliver and promote the various material, is through the means of social media. Everybody nowadays has an account on at least one of the major social media networks, this is how I have met and managed to collaborate with some really amazing artists and producers.
Tell us something about your latest release "Marylyn Monroe" and where fans can find it. 
BowcieTT:  MarilynMonroe is a track that will "stick in your mind". The hook is bouncy and uses a range of different harmonies and melodies behind a series of rap leads to deliver a fully surround atmosphere. The three track EP consists of an original version from BowcieTT and a clean and explicit remix featuring Jay Felicite. You can find MarilynMonroe alongside many other tracks on any platform that provides music, such as; apple music, iTunes, YouTube, Spotify, Deezer, tidal, google play store, amazon, need I go on?
What is your relationship with visual media? Do you think videos are important for your music? Do you have a video you would recommend fans checkout so they can get in to what you're doing?
BowcieTT: Videos and photography are absolute musts when trying to be a successful artist. I am working on a few different video projects for MarilynMonroe, HandsUp, TrapBunk and Dovreste Sapere. If you want to find the official lyric videos, search for BowcieTT on Youtube or Google.
Do you prefer working and creating in a studio environment, or performing live in front of an audience?
BowcieTT:   There is no greater feeling than when you have worked hard, mixing and mastering a track to then perform it and see the reaction from listeners. It's amazing to know that I do something I love and it has such a dramatic effect on people!
What's next on the upcoming agenda for BowcieTT?
BowcieTT: The next stage is to release a 12 track mixtape. There are a couple of songs that are lined up to be put onto the mixtape, although, one may have to disappear for a while until the mixtape is finished. I hope to take as much time as needed to produce something really sensational for my loyal fans. Everything I do, I do for them, So, Onwards and Upwards!
OFFICIAL LINKS: FACEBOOK – INSTAGRAM – SNAPCHAT – MUSIC STREAMS
Please follow and like us: