The Samhain Hot Hails From The Brooklyn Streets of Canarsie. Influenced By Some Of The Greatest Rappers & Singers Of All Time, From Jay Z to Michael Jackson He Breaches Musical Genres To Blending Every Musical Style Imaginable.
Tell us something about how you got started making music?
The Samhain Hot: I started trying to write songs when I was like 7 years old but didn't really get anywhere with writing songs until I was 14 & started recording at a studio. I wrote a whole rap song every day in junior high school.
Who were your first and strongest musical influences that you can remember?
The Samhain Hot: the first & strongest musical influence is Michael Jackson. Around when I was in elementary I got into Michael Jackson heavy. My family always had Michael Jackson records & video tapes. Every kid in every class I went to knew me as the One who likes Michael Jackson lol. That Guy MJ was out of this world with his Talent. Then later on in Junior High I got into Jay Z Heavy. Everything was Jay Z & Rocafella. Then I started listening to everything from Bone Thugs N Harmony to Ja Rule. Prince, Soft Cell, Busta Rhymes, B.G. and all the Cash Money Millionaires. Motley Crue. I bought all of these Artists & more Albums. My collection is heavy
If I was to turn on your media player right now, which artists/songs would I see on your recently played list?
The Samhain Hot:  Currently I haven't been uploading anything on my Library lol. I got Lazy & started listening to music on YouTube Music. But in my Library I have the latest Soft Cell singles. Birdman & Juvenile "Just Another Gangsta" Album & Vince Neil "Tattoos & Tequila" Album.
What do you feel are the key elements in your music that should resonate with listeners?
The Samhain Hot: My Music is different. It's like I'm Fuzing Musical genres. They can hear the Hip-Hop also the R&B, the Pop, The Rock, The Soul, the Electronic Dance etc. from Rapping & singing at the same time. The horror core elements. & producing my own music the songs come from my Soul.
What do you think mainly separates you from the massive crowd of artists emerging right now on platforms all over the web?
The Samhain Hot:  I'm older than the younger generation which has a similar style. I'm spitting lyrics not mumbling. Talking about things that'll make you say "whoa!" Lol on some Eminem Bizarre styles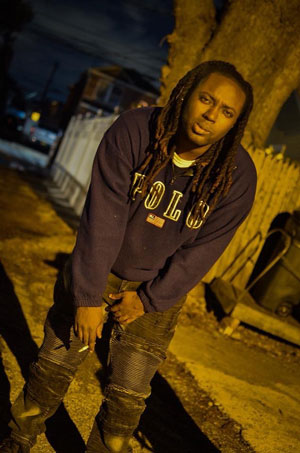 Do you ever write a song with current trends or pure listener satisfaction in mind, or do you only compose what comes from within your natural emotions and mindset?
The Samhain Hot:  I never made a song with current trends. I compose stories that come from within. Whatever my minds brings forth. It comes naturally. It's all me from my emotions
What is your process when writing, recording and producing your music? Do you collaborate with others or outsource any of these tasks?
The Samhain Hot: When I write, record & produce I do everything alone. I don't want or need anyone around. I'm in the Zone. The exemption being working on a collaboration with someone I know personally.
If someone has never heard your music, which keywords would you personally use to describe your overall sound and style?
The Samhain Hot:  Hot! Lol. Different. People don't even know what to Call they just say it's different and it's the future sound. They might say Demonic toward certain songs. I can't really thing of any keywords.
What has been the most difficult thing you've had to endure in your career or life so far, and how did you overcome the event?
The Samhain Hot:  Most difficult thing I had to Endure? Hmm. I can't really say. I been cruising through life getting Lucky breaks. Never had to really go through anything difficult. When I was 7 my maternal grandmother died. That hit hard at a young age because I was close to her but eventually with reading scriptures I look forward to seeing her in the resurrection.
What would you consider a successful, proud or significant point in your career so far?
The Samhain Hot:  I haven't had anything successful in my career yet. In high school I won the Contest for entering a rap song in the Canarsie High School year book. Funny thing is I didn't know it was a Contest and thought it was whoever handed the lyrics in first. So I wrote it in the classroom right after the announcement and handed it end when the bell rang. The people in the office were saying "damn that was fast!..I hope you know this doesn't mean you won it's a contest. We have to wait for other contestants." But you know I won anyway hahaha. I am proud that I was finally able to Focus and Write & Produce my own album. Time has been running and I thought it might never happen after a while.
Is there anything you would change one thing about how the music business works right now, or you completely happy with the current situation and digital platforms?
The Samhain Hot: I come from the era of Physical CD's. Where you can look at the booklet and see the Pictures & read the credits & Thank You's. I've come to accept Digital platforms. It's not all so bad it certain ways. But it seems the artists are always getting the back end of deals. Spotify & Instagram want their cut of everything and they have too much power. We are too dependent on using them. And the major labels are in bed with Instagram & Spotify. And what will happen if these platforms cease to exist with our content on them? We have to pay to be distributed. Pay for everything we need to Promote & they want percentages of whatever you make. I can't make anything with these streams. There has to be a better but I don't see it happening. It is what it is.
How do you handle criticism and/or haters in general? Is it something you pay attention to, or simply ignore?
The Samhain Hot: Sometimes I might freeze up and think about what they are saying. But most of the time I'm very confident in my skills and abilities so I will for the most part ignore. But no one really says anything bad against my craft. They have to know I am talented and they can't even get pass that lol. I'm always with my Fiancé Lucy she supports me tells me what she thinks about every song I make. I'm thankful for her
Which aspects of being an independent artist excites you most and which aspects discourages you most?
The Samhain Hot: I kind of Love it because I see the difference in the Major Labels now. They don't have that big power that they use to have. They don't just sign anyone and put up big budgets & then you end up in a bad contract and broke just because you wanted to be famous. The Major labels are declined and with the new technology I can cut out the middle man for the most part we don't need them. I own all my music & publishing and no label can tell me what to do with my music. So now Major labels sit back and watch independent artist struggle to make a name for their self. Then when they start getting a buzz these labels want to come in and take over and take money out your pocket. And then for what? To do the same thing for you that you was doing for yourself? I rather be independent but get help from Major artists who can just put me on their platform and then let me sore on my own
What is your relationship with visual media? Do you think videos are important for your music, and do have a video clip you would like to recommend that fans watch?
The Samhain Hot:  Oh Yea I love making music videos. I grew up on MTV & BET. I have videos for my Old mixtapes and currently 2 videos for the songs "Brooklyn (Be The Place)" & "Skeleton" off my album "Mother It's Raining Red. They are on YouTube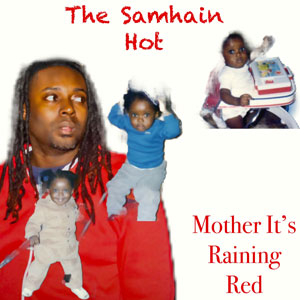 In general, do you consider Internet and all the social media platforms as fundamental in building a career in music today, and what is your personal relationship with all the new technology at hand?
The Samhain Hot: Yes it in a way it would seem that it allows us to have a platform and be independent. But as I said before Social Media & these platforms are starting to have too much power and control what content we are allowed to share. They are in bed with these Labels trying to hold us Artist back from what we deserve.
Whats your view on the role and function of music as political, cultural and/or social vehicles and do you try and affront any of these themes in your work, or are you purely interested in music as an expression of your artistry and entertainment?
The Samhain Hot: for the most part I use music just in an entertaining way. But in the songs "Head Bussa" & "Shape Shifters (Bless The Children)" I brought topics about Corrupt Governments & the safety of Our Children. And the song "The Lost Children (Suicide Interlude)" I talked about Suicide with children.
Do you only create and work in a studio environment, or do you also find time to perform live? And which of these two do you ultimately prefer and why?
The Samhain Hot:  I create & work anywhere from going to work my regular "9-5" (Music ain't paying the bills lol) and at home. I travel with my studio equipment so I can whip up ideas and lay down tracks anywhere. But live performing I still haven't got around to that yet. Seems like that barrier is hard to break at the moment.
Do you have a recent favorite track in your catalog that has a specific backstory and/or message and meaning very dear to you?
The Samhain Hot: My favorite song on my album is "Skeleton". It plays on the topic of death that so much of us have to worry about but no one seems to discuss. Death is all around us. I threw the Horrorcore in there with some biblical references and that song just came to life with a bang. The production that came out of me! I still can't believe I made that beat! Hahahah
Could you tell us something about your latest project?
The Samhain Hot: My Debut Album "Mother It's Raining Red" is available on all digital platforms. No psychical copes at the moment. It is made of a musical body of work that consist of 18 songs written & produced by myself with no features. It's mixed of rap with singing. Hip Hop Pop Rock R&B etc. I don't think this is something anyone has ever heard.
What do you find most rewarding about what you do? And do you have a specific vision or goal that you would like to achieve in the near future?
The Samhain Hot: I find it rewarding after creating these masterpieces. And being able to distribute them. I hope one day I can have a superstar platform so I can change the world with this music.
OFFICIAL LINKS: APPLE MUSIC – SPOTIFY – AMAZON – TIDAL – GOOGLE PLAY
SOCIAL MEDIA: FACEBOOK – TWITTER – INSTAGRAM
Please follow and like us: