S2 Entertainment's SugaKayne has been dropping a number of projects as he keeps his grind in a forward momentum. We recently caught with a couple of track taken from his EP and album. The quick, astute ways SugaKayne addresses issues, thoughts and experiences without the sort of overbearing, parenting attitude of more "conscious" style rappers is clear as he makes his forays into honesty on tracks like "Who I Am" (prod by Chandler "JR" Davis), "What I Claim" (prod by R.Banks of the Graduates) and "Homicidal Recital" (prod by AmpOnTheTrack).
He powers through themes that are both confrontational and confessional in search of some kind of symbolism. The guy  has a gift with delivery, and now that it's married to some highly affecting, dramatic subject matter he's putting that to good use with well-crafted verses that bring to mind the sleek professionalism that made T.I.'s King such an infectious gangsta-pop record.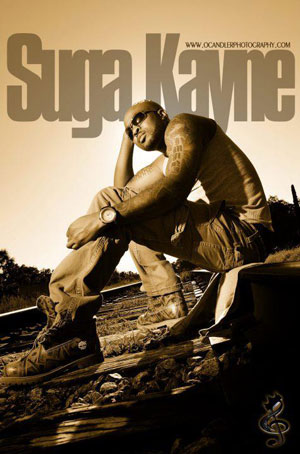 What makes SugaKayne so captivating is the earnest, raw intensity he brings to every track. Whether he's channeling his rage or sharing insight, he keeps listeners deeply engaged with his wordplay. Even when the lyrics are not all that complex,  there is something about the ferocity in his voice that demands your full attention.
You will vibe with SugaKayne even if you cannot relate to him, agree with what he is saying or even take him all that seriously. That's a rare feat for any artist to pull off, and he does that on these tracks.
Like most well-defined rappers with strong personas, SugaKayne is not for everyone, of course, but anyone who was turned away by his previous releases will find few new ideas explored on here. Depending on who you are, this could be good or bad.
It could prove SugaKayne's focus on building a rep in a certain realm of the industry while simultaneously promoting his culture over cashing in on popular trends in urban music, but it could also make him appear uninterested in evolving into other realms. I tend to believe the former, but I would be lying if I claim to not consider the latter as a possibility.
As with most underground rappers, it's hard to tell what the future holds for SugaKayne, but for the time being he will remain on the cusp of being as big as his talent says he should be. These three tracks mentioned here is further proof he has the talent needed to be one of the biggest names in underground hip-hop.
If he can find the ability within himself to channel the same intensity he put into these single releases into another studio album, or even a string of new singles throughout 2017 this year could very quickly become the year he breaks through to the echelons of rap royalty.
OFFICIAL LINKS: WEBSITE – INSTAGRAM – TWITTER – FACEBOOK
Please follow and like us: