Truesdale is a Hip-Hop artist from Groveport, Ohio, a suburb southeast of Columbus. He first starting writing music at a very young age but did not realize it was his dream till around his freshman year of high school. Though he wants to be in the music industry he has not slacked in school. In 2016 he competed in the Deca National competition, which also includes many countries around the world. Truesdale has dropped the single "are we really free?" [Prod.Matissmo]. Truesdale is a source of intrigue. His emotional availability and aptitude for innovation is as much an asset as his eclectic sound palette. These traits will probably solidify him as an artist with a sizable reach across various styles.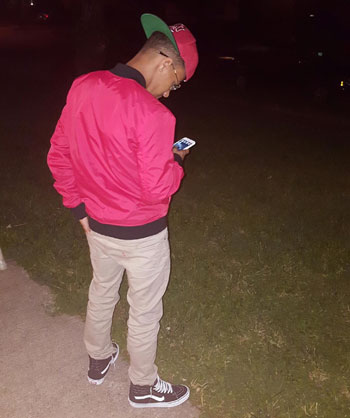 Truesdale charm will carry him quite far too. Understanding that he is prone to experimentation as a dedicated tinkerer and envelope pusher, fans will repeatedly have to make plenty of room for his crossover leanings and art school idiosyncrasies to exist in rap. The possibility of his music is as exciting as it's endearing almost stoner affect.
"are we really free?"  finds Truesdale taking a deep dive into the land of introspection to reckon with social commitment, among other things. Here he makes a song based on what he feels and not just to try and sell records or reach the masses.
He is definitely a bright young artist who is carving out his own uniqueness, considering the sound of this song, which rides on a jazz-influenced beat, loaded with a bunch of samples creating a busy soundscape for him to lay his rhymes upon.
No one sounds quite like him no one makes music like this guy – as his 'busy' soundscape gives you such a laid back feeling. Honestly, I didn't expect anything this fresh from Truesdale. Personal expectations for this single were low before hearing it.
I wrote him off as just another young rapper chasing a fad, riding the electro wave to its crash. But after giving "are we really free?" [Prod.Matissmo] a solid listen and more, the music has spoken and I've had a change of heart: Truesdale is for real.
A truly excellent work sounds like putting a stethoscope up to the heart and mind of its creator. Anyone who has ever labored over something that personal knows the vulnerability of putting whatever it is 'out there.' Truesdale shows a commitment to originality by keeping the production, and his flow fresh, yet maintaining a distinct 'vintage' sound.
OFFICIAL LINKS: SOUNDCLOUD – TWITTER – INSTAGRAM
Please follow and like us: