Ghost Season is an alternative metal band from Athens, Greece. Formed back in July 2013, Ghost Season was an idea spawned by Dorian Gates (bass). Within weeks Nick Christolis (guitar) joined to complete Dorian's vision. Among the bands that inspire Ghost Season are Revelation Theory, Shinedown, In Flames, Disturbed, Crossfade, Pop Evil, All That Remains, Alter Bridge etc. Ghost Season released their debut EP "Ghosts like Her", on September 2014. They followed that up with their first single "Break My Chains", released in December 2015. The band then signed with Pavement Entertainment (USA) to release their new full length album "Like Stars In a Neon Sky" in January 2017 featuring the video "Fade Away".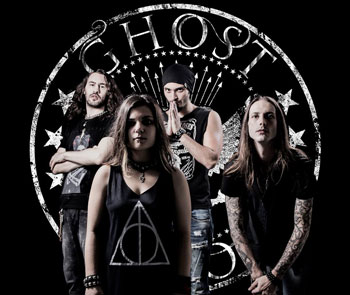 "Like Stars In a Neon Sky" contains 12 high-energy tracks performed by the current band line-up of Hercules Zotos (Vocals), Nick Christolis (Guitar/Backing Vocals), Dorian Gates (Bass/Backing Vocals), Helen Nota (Drums). The band's new release album represents a watermark moment in their band's history.
With this album, Ghost Season has graduated to a new, impressive level. It would be easy to say that they are older and more mature, but that would be a lazy observation. Instead, the band seems to have consciously shed its previous skins and acknowledged that they are ready to take over the mantle of the 'Next Great European Alternative Metal Band'.
This album thunders and cracks with plenty of musical lightning, kicking off with the slow cinematic intro "THE RECKONING", before moving on to the stomper "SONS OF YESTERDAY", a track that sets the tone for what follows: crunchy, arena-ready, groove-laden metal that while paying a certain kind of homage to the classics, is also pure Ghost Season.
The intertwined solos and bass riffs are effortless if you watch them live, but clearly are the product of much focus and ability. On this record, the axe attack is in exceptional form, with Nick Christolis playing some exquisite riffs and solos. Hard-hitting female drummer, Helen Nota is the anchor around which the band weaves its tight rhythms.
Ghost Season distinguishes themselves by treating melody with the same respect that they do sing-along choruses and fist pumping, head-banging chord structures. It occasionally may get them tagged with the "commercial" moniker but so what? Ask Led Zeppelin and Metallica if they mind having hit records and we all know what the answer will be.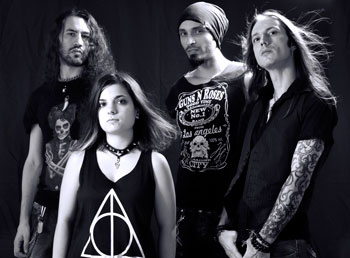 The video-single, "FADE AWAY" along with the songs "BREAK MY CHAINS", "WAR OF VOICES" and "THE MIRROR" all feature super-catchy constructions while never sacrificing the drama or ferocity. There are also plenty of harmonies and some understated growling that could be flagged as being a bit indulgent, but in the grand scheme of this crafty and polished collection, those elements all sort of make sense. It almost comes naturally on an album that reflects so many metallic influences and disciplines.
Another component that sets this record apart from anything else this band done is the vocal quality and performance of Hercules Zotos. His command and control seem at an all-time high. Whether he is soaring in the heavy, fast-paced "BREAK ME SHAKE ME" or doing a more tender take on a ballad like "OF HEARTS AND SHADOWS" he demonstrates a range not always found in metal frontmen.
But this is not most metal bands. This is Ghost Season and with "Like Stars In a Neon Sky" they have achieved something quite special. They have managed to grow and evolve without losing any of their fire, edge or intensity. Ghost Season have shaped and crafted a modern metal classic that reflects the past while very much embracing the present and future.  In 2013, it may have been hard to have predicted the future of this band. But "Like Stars In a Neon Sky" sends a clear message: Ghost Season are here to stay!
Merch Store (for physical copies and bundle packages): http://tinyurl.com/gstcol5
iTunes: http://tinyurl.com/LikeStars-iTunes
Spotify: http://tinyurl.com/LikeStars-Spotify
Amazon Music – http://tinyurl.com/LikeStars-AMZ
Google Play Music – http://tinyurl.com/LikeStars-GPlay
Stay in touch with Ghost Season online:
Official Website: http://ghostseason.com
Facebook: http://facebook.com/GhostSeasonMusic
Twitter: http://twitter.com/GhostSeasonBand
Instagram: https://instagram.com/ghostseasonmusic
Please follow and like us: