The "Fourier Bessel Series Remixes" is a song set by the electronic artist Secant Prime, whom we know exactly nothing about – A purposeful choice by the artist. The title "Fourier Bessel Series" is something that I personally knew nothing about – and this was not a purposeful choice, but rather a simple lack of knowledge on the subject. Wiki describes it as: In mathematics, Fourier–Bessel series is a particular kind of generalized Fourier series (an infinite series expansion on a finite interval) based on Bessel functions. Fourier–Bessel series are used in the solution to partial differential equations, particularly in cylindrical coordinate systems.
I'm not sure if this description clears it up for you, but I'm just as much in the dark as I was prior to reading this, so I prefer to concentrate on my own earthly perception of these soundscapes.
If dark and shining and sublime power sound like contradictions, it's appropriate — for the music of Secant Prime is filled with opposites. The listener will find darkness and light, power and restraint — all combined and utilized to stunning effect.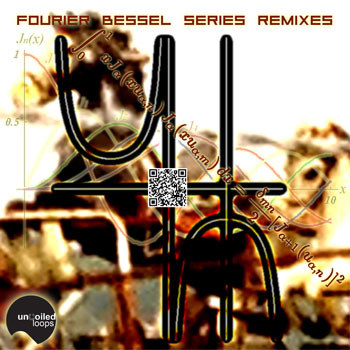 This is one of the finer examples of electronically-based dark ambient music. Whatever meanings and emotions the individual listener finds within these tracks, they are unquestionably moving, and extremely thoughtful in their construction. Now I called these tracks but this is actually just one track remixed in 6 different ways…and yes, they're different and contrasting between them.
As far as the 'low frequency' aspect — it's definitely to the listener's advantage to experience this recording on a sound system capable of reproducing extreme low-end frequencies. At times you can feel this music as much as hear it.
 The production on these songs is truly amazing, with sound that surrounds, then swallows you whole. This is guaranteed to never be played on any radio station, as music of this caliber is much to confronting for the simple minded masses. "Fourier Bessel Series Remixes" is a crowning achievement in dark, moody, electronic sound design and a testament to the effect of music on mood. With music like this who needs mind expanding drugs?
Almost everyone has a dark side — a place of quiet, deep dread or dark yearning. This is the soundtrack for those moods. The remixes are mostly dominated by long passages of percussion-less soundscapes that simmer, rumble and drone.
This music breathes and broods, culminating in a tapestry of sounds and effects which intoxicates and at times even suffocates. The sense of impending menace is unsettling and disturbing as you wander aimlessly through these landscapes evolving in your mind, confused by strange sounding patterns and stalked by a persistent presence.
And then suddenly you will come across a percussive mix like "Fourier Bessel Series (Louderest Mix)" which would not feel out of place in a dance club setting.
"Fourier Bessel Series (Eight of Swords Mix by I Transform)", is another track in the set, which utilizes percussion in its arrangement, although more sparingly. But is without a doubt the beat-less mixes which have a more significant impact on the listener, I think.
Listen to "Fourier Bessel Series (Sincock Mix)" in bed tonight. Turn out the lights, lie on your side, naked and uncover with your back to the door and listen. You won't sleep, I assure you and when you do you will wish you hadn't. Deep, dark, haunting, hypnotic – throw as many euphemisms and adjectives at it as you want, the proof is in the listening…
OFFICIAL LINKS: WEBSITE – BANDCAMP
Please follow and like us: