J.E Da Weirdo was born and raised in Cleveland Ohio. The producer and artist, has dropped his 22 track mixtape entitled "3000% Weirdo". Unquestionably one of underground hip-hop's most diverse personalities, J.E Da Weirdo has one of the most unique flows in the biz and packs constant laugh-out-loud punchlines together with explicit language. It sure doesn't hurt that he has a knack for sing-a-long hooks too.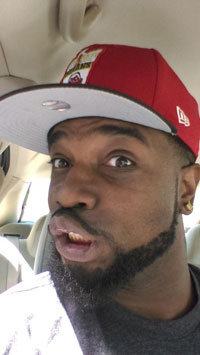 J.E Da Weirdo sets things off with a blazing, verging on vulgar intro, "Dope feat. ChrisdaCEO" filled with overtly sexual innuendo. Flawless flow intact, "Testing" sticks with the anatomic mapping and explicit verses over a disturbingly unique beat. You have to hand it to the man; he sure knows how to start a mixtape with a bang. This latest vaudevillian theater of the amusingly absurd sees him sparking on all cylinders by the time he executes the banging "Raw Dog".
Like the name suggests, J.E Da Weirdo is a free spirit. The snarky little beats build tension nicely throughout the mixtape without doing anything spectacular, but then that's not necessary: the whole point of J.E Da Weirdo, his very essence, is to live up to his moniker in a florid explosion of charm, wit and rowdy libido that seldom has much do with deep thought, restraint, or indeed reality as most of us would see it. J.E Da Weirdo is excess, whether his fucking, partying, smoking or popping bottles, it's always over the top and larger than life.
As the name intends, this dude has no interest in doing normal things – his always pushing boundaries and overstepping limits. Having his cock sucked by a big-lipped girl just won't do, she needs to be some nigga's ho and has to swallow too. Get it? If it's true that Hip hop music ate up the world, then it's fair to say that J.E Da Weirdo is busy eating up Hip hop!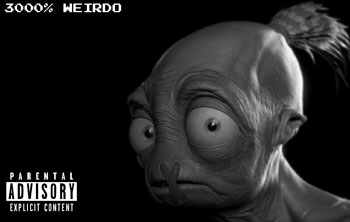 And he is doing it with a big grin on his face. Simply put this mixtape reminds me of good old school rap with equal parts humor, trash talk, and sermonizing. He obviously has skills, brags much, but seems to clearly have his head on straight. Much better sounding, than most of the over-produced and over-promoted, but yet still weak tripe, that is out there.
The tracks on this mixtape provide only a partial indication of J.E Da Weirdo's irreverent genius, as this Cleveland native proves to be a rowdy fire starter with impeccable timing and a most devilish delivery. "Zombiez" tears straight down the middle of the mixtape with another slamming beat production, as does "Beast'N feat. Untame Wrecka".
"Let It Fly Feat. Untame Wrecka" has an epic and cinematic production, while Married 2 Tha Mic feat. Konbo is minimal and stark in comparison. Testifying to the fact that J.E Da Weirdo can flow over type of beat with equal ease.
That the narrator is a well-rounded hedonist who pursues a balanced lineup of vices and addictions can be confirmed on "28grams" and "Sin City". J.E Da Weirdo can be counted on for great explicit verses and left-field songs, and "3000% Weirdo" marks a time he's put all those elements together and delivered a underground great mixtape.
OFFICIAL LINKS: FACEBOOK – JANGO – COAST2COAST – DATPIFF
Please follow and like us: