KenSon definitely has the skills to hang with some of the best underground rappers of today. He proves that much on his 4 track EP "The Page Turner", which is consistent in its Boom Bap tone and attitude throughout, as we are exposed to KenSon's reality. The production perfectly fits his style and is hypnotic and addictive. And you got to love the fact he actually keeps it real and raps about real life situations, pretty much nonexistent in mainstream of hip hop these days.
If you don't know KenSon this is a great way to get introduced. I was very impressed that nothing felt forced and all the songs titles are one-word classics – "Fasholy", "River", "Star" and "Go". KenSon has the talent and ability to turn critics into converts and doubters into disciples with his chilled out brand of street parables. This patron saint of boom bap rap is in fine proselytizing form, sermonizing about his favorite subject: Life.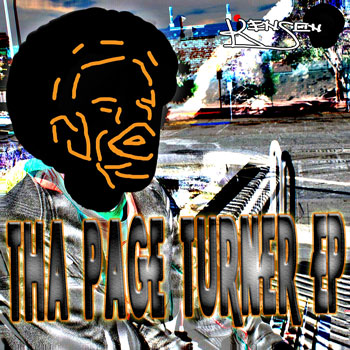 Just 4 songs long, the Berkeley, CA rapper's freshest bag of audio dope is a showcase of what the man does best – rolling out the most laid-back and effortlessly cool records to vibe to. With no forewarning or promotion, no massive social media roll-out, or smash single to speak of, "The Page Turner", is a pleasant surprise seemingly pulled from the ether; a fine batch of high quality product cooked up by KenSon and Mixed and Mastered by Tai the 13th in Antioch, CA.
As carefree and easygoing as he may come across, much consideration and hard work go into making music like this; KenSon skill as a rapper and songwriter should not be downplayed. Here, on this short but sweet EP, he displays his talent for vivid picture painting; a gift that helps transport listeners to that tranquil place, that serene state of being all deep-thinking hip hop connoisseurs are familiar with.
The production work plays a major role in supplying the high quality basis, on which KenSon shows his knack for turning any beat into gold with his pen, distinctive voice and handling of the mic. Each old school flavored beat artfully crafted here reflects the different sides of KenSon personality; be it the gloriously inspiring "Go", the trendy "Fasholy" or the smooth anthem "River" – a fantastic track and contender for the standout song of the EP.
All through "The Page Turner", the quality on offer – from both the producer and the emcee – stands tall; KenSon knows his lane and sticks to it, expertly, navigating the territory with a degree of charisma and skill few possess. There is a striking inspirational quality to every line KenSon spits.
As with all rappers, it's easy to mistake the discussion of 'glamour and gold', for example on "Star" and "Go", seem like materialism and superficiality – a lot of the time it may be, but not here. KenSon speaks to his dreams and goals; it highlights a desire for something more and the determination to get it.
This is the pursuit of happiness, not just idle boasting.  KenSon is the definition of skill. His thoughts may seem random but they all come together perfectly to make sense.
OFFICIAL LINKS:  BANDCAMP – FACEBOOK – SOUNDCLOUD – TWITTER
Please follow and like us: