Betsy Ade (lead vox), Matt Specht (Piano, Guitar, Vocals), Derek Schattl (Bass) and Mike Wynn Jr. (Drums, Vocals) make up the current Rainy Day Crush line-up on their EP, entitled Calamity! RDC originally launched itself in 2002 with Betsy Ade and Matt Specht, before singing a record deal, releasing their debut LP, touring the Midwest and Northeast, and being named Wisconsin Area Music Industry's Best Rock/Alternative Band of the Year. They then broke up in 2004, had a reunion in 2012, and switched to being an acoustic duo called Candy Apple Crush.
However they soon realized they needed to be a band, hence the inclusion of Derek Schattl and Mike Wynn Jr. which eventually led to the recording of the 5-track sophomore effort, "Calamity!", of which  cannot get enough. Rainy Day Crush and its cast of players deliver enough theatrical eccentricity to keep things interesting, while exuberantly dabbling in enough catchy indie pop and piano-fronted alt-rock to reach the masses. A cool and lovely mixture which forges tunes that are so darned irresistible you keep coming back to them.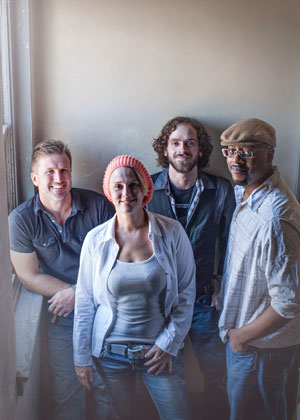 These tracks play out together as a gourmet feast for the senses while Betsy Ade's vocal fixations and the band's musical smarts are a transfixing combination, utterly unbeatable. Rainy Day Crush is unlike any other group around. Charismatic, clever, creative this EP has a carefree pop style, characterized by dry wit and cynicism, coupled with beautiful insights.  A seriously great pop record that's both accessible but quirky enough to stand out amongst the crowd of other artists out there right now.
Right out of the box with the opening title track, it's evident that there's a lot to chew on here. Just put on your headphones and feel the aural nuances really come alive. It becomes obvious after every spin that Rainy Day Crush is a very accomplished band and it's clear they'll have even more to share down the road. In the meantime sink your teeth into the runaway rhythm in "Serpentine", the sing-along choruses of "Have It All", the pulsing and pounding tease of "Sticky", or the blissful melodic sweetness of the ever-mutating "My Own".
This is smart music, pulling from pop to rock to colorings of alt-folk. It's not easy to do, it takes a really talented people to make it all sound fresh and satisfying and entertaining. Rainy Day Crush reach levels very few of our popular stars ever even catch a glimpse of. There are hooks, handclaps, sing song choruses, and a sense of the familiar, but injected into songs that are wholly unique. And then there is Betsy Ade, her voice rises above everything else, bouncing between playful, energetic and delicious.
The arrangements are also amazing, demonstrating the band's expanding tonal palette. They challenge you to separate the layers, to work out the structure, to hear everything Rainy Day Crush is putting on offer here. It's obvious that the band love what they're doing, and when anyone is that passionate about their work, it's always going to show in a great result.
In a world often full of manufactured, mass-produced pop music, "Calamity!" stands out as a great auteur EP, that is infused, end to end, with reminders that this could only have sprung from the minds of Rainy Day Crush. I think Rainy Day Crush is one of the more interesting bands we have making music today. I love what they've done in "Calamity!" and I look forward to watching their develop in the future!
OFFICIAL LINKS: WEBSITE – BANDCAMP – FACEBOOK – TWITTER – YOUTUBE – MERCHANDISE
Please follow and like us: