Mike Dekleva is a musician, guitarist and composer from Albuquerque, New Mexico. Inspired by artists like Joe Satriani, Eric Johnson, Andy Timmons, and Nashville session guitarist, Robbie Calvo, Mike has composed and recorded his original brand of instrumental rock music for over 20 years. "Synergy" is Mike's latest 4-song instrumental guitar-oriented rock EP, released on December 15, 2015. The EP was recorded, mixed and mastered in Nashville Tennessee at Paragon Recording Studios and Mayfield Mastering Studio. The players on the EP include Mike Dekleva (guitars), Robbie Calvo (guitars), Jason Webb (piano and Keyboards), Amanda McCoy (bass) and Grady Saxman (drums and percussion).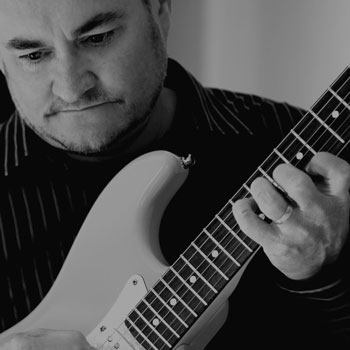 Mike Dekleva can play a zillion notes per second, taps, dive-bombs, trills, shreds and sweeps. So can a million and one other guitarists. So what makes Mike any more special? This album is one very good reason why! Many guitarists, particularly the more insufferable ones, seem to release music which is nothing more than an excuse to perform the equivalent of guitar karaoke all over a backing track; technically brilliant, but overall, fairly dull to listen to.
The difference here is the music. Many guitarists, who have amazing speed and technique, are not afraid to demonstrate this at every opportunity, forging tracks which ultimately separate the lead guitar from the rest of the song. With "Synergy", Mike Dekleva and the production team have done their homework, and everything works well. The songs sound original and interesting, and the lead playing complements this. The flashy guitar techniques are there, but there's a lot more melody, timbre, tone and all-round class than your typical guitar album. This isn't just a rock guitarist's album. This is one for music lovers in general!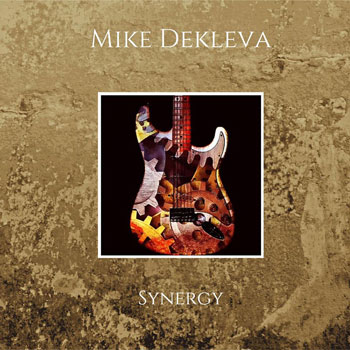 From the minute you hit play and the EP opens up with "Lost", you're thrust into Mike Dekleva's dynamic world of instrumental guitar that isn't incredible in the way Malmsteen or Vai's incredible amount of notes per second is, but it is incredible in the way that when you've finished listening, you wonder why other musicians actually need to move their lips get an emotion or message across!
From the superb opening song to the closing track song, Mike never loses his musicality and even if you aren't awed by his technique, you should be by his ability to dispense with a vocalist and let his guitar do the singing. Mixing harder fare such as "Drive" with delicate soundscapes such as "Midnight Sky" proves his credentials as an artist able to tackle a variety of song types without missing a single note. In places the music literally shimmers, such as in "Lost" and "Synergy", where a kudu is also thoroughly deserved by Amanda McCoy's bold and boisterous bass playing. The album is loud in places, quiet in others and it is this variety which makes it such a great record.
The thing is, Mike Dekleva has a real structure and melody to his songs and some instrumentalists totally miss that. The interplay between Mike and the other musicians is absolutely brilliant too. In fact, all the musicians on "Synergy" get to show their chops, and none dominates or comes across as gratuitous: it's a very tight album, with everyone serving the tracks.
OFFICIAL LINKS: WEBSITE – CDBABY – FACEBOOK – BANDCAMP – REVERBNATION
Please follow and like us: