Stay Real Studios releases Prophecy's second Mixtape, "Nothing's Changed" Feat. S.R.W.L.L. Prophecy gives us another puzzle to dissect in the musically heavy "Nothing's Changed". The music does not provide a scene for Prophecy or any of us to dance on, but an entire environment for us to get lost in. For a much appreciated change from the mainstream, radio hip-hop, we get to hear his lyrical gems wrapped in eclectic synth-driven audioscapes, not just sitting on top of it. Song after song, just when you think he can't possibly pull off another great track after the previous one, he destroys your expectations.
Rugged and introspective, the rapping is tight, and the beats are superb for the most part.  I can listen to the whole thing without skipping a track, and the overall flow is pretty seamless. The 8 tracks flow together like a concise Hip Hop symphony, up there with the best newcomers the genre has to offer. Prophecy presents an emotionally-charged course that revisits many of the topics of loss, dissatisfaction and alienation. The main downfall of the mixtape, if I had to find one, is that it is too short. Eight tracks in the current mixtape scene, is eight tracks too little. But hey, it's a FREE download, so there are no pretenses.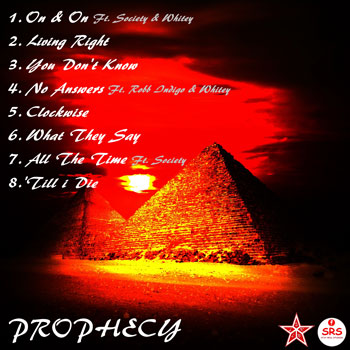 It's great to see hip-hop has such young artists as Prophecy who desires to reach the helm in their genre. Without artists like him I think hip-hop would truly be dead and buried with the artists out there spreading the same words across every song and album as if I knew what it were to be a so-called gangster. Emotions are bigger than life. Life is bigger than a single moment repeated over and over again. Prophecy brings us that very essence as his songs organically grow and progress with each listen. There is always something new to find, and this mixtape is no exception.
From the opening track, "On and On Ft. Society, Whitey", Prophecy delivers deep, personal, thoughtful music. I think he is a rare breed of rapper who won't shy away from social statements and isn't afraid of getting deeply introspective regardless of how painful the stories may come out. Hip hop, like every art form, is a reflection of human spirit. And like a human being, hip hop cannot be reduced to any trite, simplistic set of axioms. Hip hop is not geometry. If you think hip hop is a certain set of empty values and slick trends, propounded into eternity- well, you're wrong. And Prophecy is living proof of that.
He has his own laidback, coming of age flow and part brilliant poetry, part personal narrative-type rhymes. "Nothing's Changed" simply doesn't relent as Prophecy does more than just examine himself, his relationships with other people and the way this world is working.  This personal integrity is what drives the entire mixtape: every single song on this is incredibly fresh and real, filling a missing void in hip hop. My favorites include, "Living Right", "No Answers Ft. Robb IndIgo, Whitey", "Clockwise" and "All The Time Ft. Society".
OFFICIAL LINKS: SOUNDCLOUD / INSTAGRAM / TWITTER / YOUTUBE / FACEBOOK
Please follow and like us: