In 2013, Jennifer Hope released her ten-track LP, "Velvet Fire".  In 2014, she recorded and released her follow up EP, "X-Tremities".  Both projects were sponsored by Eddie Van Halen and produced by Warren Huart (Aerosmith, The Fray, Johnette Napolitano, James Blunt).  On April 21, 2015 Cleopatra Records released Hope's five-track covers EP, "Love Blooms to Black".  Jennifer Hope's latest single and first duet, "Bring Me To Life," was released, February 5, 2016.
Evanescence burst onto the scene thanks to the song "Bring Me To Life" from the Daredevil movie. Bands that become popular because of a song in a movie generally don't last too long and it would be easy to say that Evanescence was just a flash in the pan based on that alone, but that would be an unfair assessment. Their music tended to be a bit moody, provocative, and had some dark undertones, which made them perfect for the Goth crowd. On the contrary "Bring Me To Life", seemed to be perfect for just about every crowd, as it became a major international hit.
Now just how do you cover a mega-hit song led by Amy Lee's powerfully haunting vocals and Ben Moody's rocking guitar riffs? Rarely – if ever – does an artist burst onto the scene with such refined, cultivated, and delicately manipulated talent to even attempt such a feat – never mind pull it off. Jennifer Hope uses every bit of her signatures from more widely-distributed tracks – including piano breakdowns, crunchy guitar chords, and ethereal synths – to enhance every verse and chorus on "Bring Me To Life".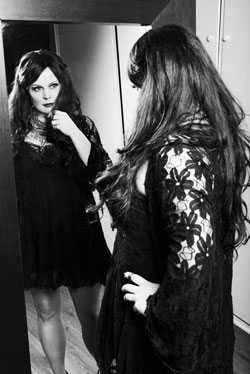 The creative use of male and female vocals and harmonies, as well as heavy bass lines and slamming drumbeats, lends a depth to their re-creation unmatched by any cover band that I have ever encountered thus far. If you have trouble defining Jennifer Hope's proper place in the genres, after hearing this track, don't feel ashamed. She's anywhere and everywhere.  Hope is an artist that distorts definitions, upends conventions, and enthralls the listener.
This cover of "Bring Me To Life" – if nothing else – completely deconstructs the popular notions of several types of alternative rock covers. At times Jennifer's voice plays off in such a way that you might think you're listening to a delicious version of new age music. But just when you're settling into total mesmerizing fixation, the guitar wails in the background and the percussion thunders to center stage with staggering fortitude.
This production of heavy, sensuous, bass infested sound is like nothing you have experienced. Make no mistake, all of the instrumentation and arrangements, are there for one purpose, and that is to support Jennifer Hope's amazing vocals. Even in the song's heaviest moments Hope's voice is front and center and not obscured by anything.
Jennifer Hope doesn't fall into the "formula" trap, where she just releases a rehash of a former glory. Everything about this cover just sounds right. It is slower, dreamier and more hypnotic, as opposed to the thunder and lightning arrangement of the original. She has the same crayons, and the same sketch but she has colored the picture quite differently.
OFFICIAL LINKS: WEBSITE – FACEBOOK – TWITTER – YOUTUBE – ITUNES – GOOGLE PLAY – AMAZON
Please follow and like us: