Hip Hop/Soul Singer and Songwriter, Kia Sleet was sparked by her talent and passion early on, and inspired to leave her small hometown in St. Louis, Missouri in order to pursue a music career in New York City, where she has already had the honor of performing at a multitude of venues. When she isn't immersed in the realm of music, Kia loves drawing portraits, watching vintage short films, and all-things Old Hollywood glamour. Her favorite authors are Napoleon Hill and Paulo Coelho.
Kia's latest projects include a four-song EP soundtrack entitled "The Catalyst N°1: Because Cream", for a short film series called "Because Cream" starring Kia Sleet and directed by MoNae Mayweather. Straight out of the box, this EP was so unexpected. It is one of the most pleasant surprises of the year for me so far. The whole thing is amazing. I listened to it straight through, and the first, most memorable thing is Kia Sleet's voice; it has crystal clear purity and is as smooth as butter. It just glides over the tracks. Even as the first notes melt into your consciousness you may feel yourself taking a deep breath and relaxing into an extremely sensual mood, "Checking For You (Prod by Tone Tremelo)" is a stunning start to a soulfully poetic EP.
Kia has managed to serve up a delightful, delicious, delectable dish of spiritual soup to sooth even the hardest of souls, as she explores the various phases of relationships. "Memory Lane (Prod by Kream Team)", is a light and airy cut that one moment, makes you feel as if you are drifting on a cloud and Kia is the good angel serenading in your ear, the next, she is dealing out a hard hitting rap verse to your consciousness. "Trying (Prod by Kream Team)", is a merge of old school soul and urban edginess. It will have mass appeal for its musicality and Kia's innate ability to sing about the hardships of love and the circumstances that surround living it daily. "You (Prod by Patrick Ellis)", is a melodic postlude that once again displays Kia's wondrous talent to emote through inspiring words of authentic love. The production throughout is also flawless.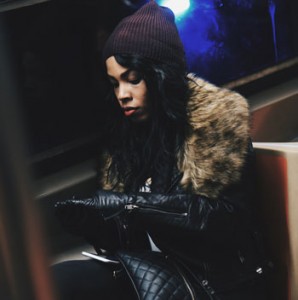 Kia Sleet is absolutely stunning. There's something about every aspect of her – inside out – that is absolutely mesmerizing. Most importantly, she's able to remain grounded in the face of opposition. What do I mean by opposition? An industry where artists are heavily manufactured for mass appeal, in the name of commercial profit. Kia transcends all of that, by just being herself and letting it simply shine through her songs.
Musically, "The Catalyst N°1: Because Cream" is dynamic and refreshing. Lyrically, it is soulful, honest, and thought provoking. Kia has found the perfect balance of well-thought out messages embedded in great urban music that borrows from both Hip-hop and Soul. Ultimately though, it's her sublimely rich vocal tones that will eventually determine her move into the higher echelons of popular music.
OFFICIAL LINKS: WEBSITE – FACEBOOK – TWITTER – INSTAGRAM
Please follow and like us: