Charlie Christmas is a Los Angeles-based singer/songwriter a multi-instrumentalist, music-monger, and nap enthusiast. He has performed and recorded with musical outfits that included Urge Overkill, Moris Tepper, Dogbowl, The Huge Bastards, the Blahs, Filthmobile, The Mobile Homeboys and the Doublewide Kings. Charlie aka Chuck Crisafulli, is also a journalist and author who has written for Rolling Stone, The Los Angeles Times, The Hollywood Reporter, Musician, Option, Guitar Player, Bass Player, Hustler and High Times. His books include Moonlight Drive, Teen Spirit, Me and a Guy Named Elvis, Elvis: My Best Man, and Go To Hell: A Heated History of the Underworld.
The album, "Weird Old Man", on which Charlie Christmas wrote all the songs, played all the instruments, and sang all the vocals, is a collection of pop, punk, and indie-garage songs, as well as soft- core instrumentals.
Take the mysterious demeanor of David Bowie, the smooth gallantry of Brian Ferry, and the quirky eccentricity of David Byrne, then mix and shake with a pinch of pure rock n' roll…et viola, you have Charlie Christmas. Charlie seems to be at his best when he starts from a place of controlled melody and slowly explodes into tangents, as his vocals wrap themselves around the coils of your heart.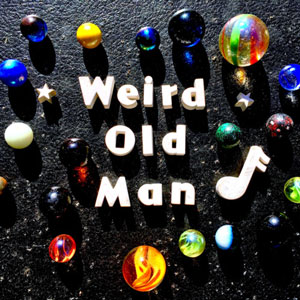 Sometimes it's on downtempo, clean, guitar-driven soundscapes like "Places To Stand", at others it's supported by chugging rock n' roll riffs like those on "Friend Of Mine". Better still, are the expansive jangling rhythms of "Happy Day" or the down and dirty grooves of "The Band Can't Play Your) Wedding".
These songs will melt your mind just a little more with each listen. Unexpected and inspired, "Secret Service Pig", is the primal flipside of the vocal tracks– undiluted and without restraint, within a reality that is layered with phat funky keyboards.
By the time you reach "Gone So Long", "Put it Away (Sexual Misconduct Song" and "Wrong Way Home", the feeling of these songs are unapologetically brash, soulful, seductive, and more sophisticated than any naysayers might care to admit.
Charlie Christmas' patented croons are able to inhabit every emotion across the spectrum for well-adjusted adults – and several non-adjusted ones. Willing and able to rise to any sonic occasion, and drive the proceedings home, Charlie crackles and flares instrumentally on "Call Me Jumbo", to suggest that he isn't anywhere close to burning out yet.
He steps up to the plate cockily on "Porno Valley" and "Show Your Grit" riding disrupted sonic waves to triumphant crashes. The final three tracks "Cheese Sauce Crisis Lowered", "Thank You", and "Bonus Track (See You Go)", sees Charlie Christmas synthesizing all of his musical and thematic elements seemingly into anything he desires, transcending genre clichés.
There's a lot going on here, and unravelling it is not at all easy. "Weird Old Man" is an intense, emotional, and intelligent listening experience, set off by some excellent guitar and vocal work, and even better song writing, by Charlie Christmas, who may just be one of the more unique and sorely under-valued talents around.
OFFICIAL LINKS: WEBSITE – SOUNDCLOUD – FACEBOOK
Please follow and like us: