Brad Rau has been performing music for over 20 years all over Boston, Pennsylvania, New Jersey, and Delaware, as a classical guitarist, rock guitarist, and rock drummer. Brad received a scholarship to attend New England Conservatory (NEC), and received a Master's degree in 2015 with academic honors. At NEC, he studied classical guitar under Eliot Fisk who was the last pupil of Andres Segovia.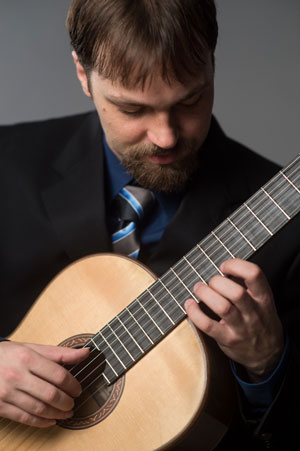 His album "La Catedral" is a beautiful recording for classical guitar enthusiasts. Brad Rau is amazing. His renditions of classical masterpieces are incomparable. The music is relaxing and soothing, perfect for winding down at the end of a busy day. You can't even hear any string squeaks, his playing is so impeccable.
The album contains the three Gymnopédies originally composed on piano by French composer Eric Satie. Paraguayan composer and guitarist Agustín Pío Barrios' music also makes an appearance, as do pieces by the Spanish composer Santiago De Murzia. In between the bunch of 15 classically inspired pieces, an original composition by Brad Rau also finds its way onto the album.
Brad Rau's guitar work is a classic example of the left hand actually knowing what the right is doing – and doing it technically purely, allowing the right hand and those magic fingers of his to convey the emotion required of the musical offering – and then some.
Little known pieces – to us laymen at least – become quickly somehow familiar in his hands, leaving you begging for more of his works. It's obvious he has devoted his life to the guitar and its soothing sounds. He is truly an artist of the first order, taking his place beside the great performers of today and yesteryear.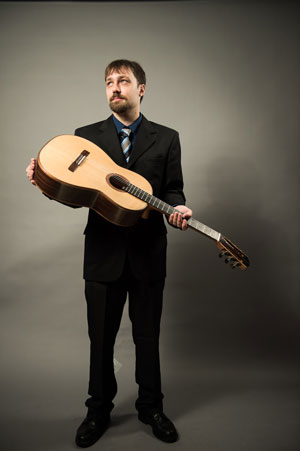 The music selected is beautiful throughout and, it seems to me, excellently performed. Every note seems very cleanly played and delivered with just the right touch. This appears to be a fluid and extremely pleasing performance of a very interesting selection of beautiful classical pieces.
The music technicality is so unbelievable with all of the trills and embellishments. And Brad has complete control of his tone and volume. He has a very intuitive sense of the loudness/softness throughout these pieces. All of the counterpoints flow wonderfully together – at certain points you would think that there were two guitars playing.
A semi-finalist in the International Texas Guitar Competition of 2008, Brad Rau has the same effect that Segovia had on most of those who used to listen to his recordings. He inspires you to pick up the instrument and see whether you could produce a similar sound, provide a similar touch.
There are some very fine guitar players, young and old, out there today, and I have much respect for all of them. What Brad seems to have and that, unfortunately not many of them display, is humility. Brad has a gift he holds precious, yet which he shares with us, as well as all the hundreds of students he has mentored at various levels.
OFFICIAL LINKS: WEBSITE – YOUTUBE – FACEBOOK – LINKEDIN – BANDCAMP – ITUNES – SOUNDCLOUD – SPOTIFY – AMAZON – SHAZAM – NAPSTER
Please follow and like us: