"Say Hi" produced by Big Cat Music is a single release from the upcoming Stori Brooks EP entitled "Everything is Gr8 (in space)" inspired by the book/movie "Hitchhiker's Guide to the Galaxy."  Stori Brooks is an alternative hip-hop artist based in Atlanta. She records, mixes and produces her own music and may add supplemental live instrumentation to complement elaborate lyrics and harmonies. There is nothing like a track that has range and caters to different dynamics. No one sounds like her and no one can make music like this girl. It gives you such a laid back feeling.
When it comes to transcendental production, Big Cat Music has undoubtedly set the standard here, while Stori Brooks joins this conversation as she flows atop a beat that will undoubtedly catch the attention of anyone versed in modern hip-hop.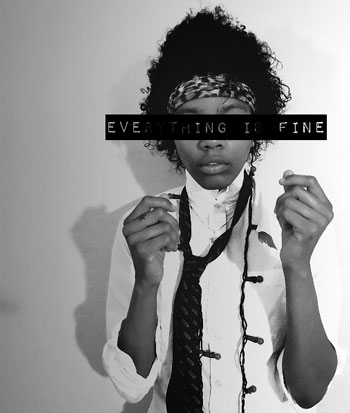 "Say Hi" is a revolutionary track, almost post-modern hip-hop in its approach. Brooks is changing hip hop and delivers a spacey, ethereal feel and vibe, which she pulls off very well. The fact that she speaks what she feels in a poetic fashion, against a beat that isn't mainstream, speaks volumes for her courage and talent.
This track is everything a fan of alternative hip hop with ambient soundscapes could want. The music is never overproduced, while the feeling is dark, moody, deep, futuristic and unique. It's hard to exactly say why this track is so good but it really literally is.
Stori Brooks also has great lyrics, and combines a unique flow and delivery with a semi-singing/talking approach at times that works extremely well for her. Experimental and accessible at the same time, the chill ambiance and smooth dreamy flow mix perfectly.
If you are disappointed by the many rappers who continue to produce lyrics that are about partying, sex, and money, Stori Brooks breaks the mold, the form and the norm, with this masterwork of cryptic prose for intellectual minds awaiting a trippy journey.
Brooks has a unique voice and flow, you can just chill out and listen to her music with ease and be totally relaxed while doing so. "Say Hi" is soothing and alluring at the same time, and coupled with Stori Brooks colorful and unusual lyrics, it makes for great listening.
OFFICIAL LINKS: WEBSITE – TWITTER – FACEBOOK – INSTAGRAM – PANDORA
Please follow and like us: