Alan LaBudde, an independent musician residing in Knoxville, Tennessee. A quick superficial measure of the artist can be gauged by the influential company he holds dear as musical influences, among these you'll find shining genre examples such as: Charles Mingus, Thelonious Monk, Bob Dylan, Johnny Cash, as well as Bach and Beethoven. LaBudde is well versed in a number of styles and especially finds his compositional nirvana in ambient soundscapes. Here he is able to showcase his technical ability, in conjunction with his progressive free associative thinking, as well as vent his emotions. Ambient music, for an artist, is much like being presented with a clear canvas and all the colors in the world to create with. It's an opportunity that Alan LaBudde does not allow to go a begging on the 30 minute plus, composition, "SIDE B OF GLOBULAR CLUSTERS".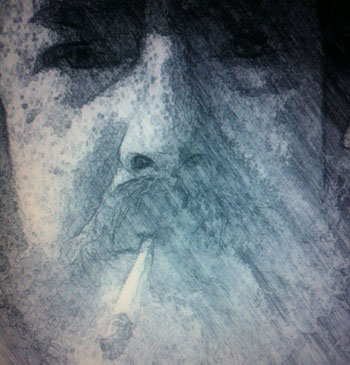 The recording is an obviously cerebral approach that certainly doesn't, on the face of it, cater to any kind of commercial considerations, except film and TV soundtrack licensing of course. Alan LaBudde is grounded in his craft and puts his creations – which include jazz, classical, folk and electronic flavors – together with a set of 'modest' equipment.
The names of Casio, Korg, Yamaha and Boss feature among his branded, used possessions, as well as acoustic percussion, guitars and basses. But that doesn't stop Alan from making stunning, and on the occasion, unmissable music.
The key is to approach Alan LaBudde's recordings with an open mind. If you're looking for conventional structures and rhythms, look elsewhere. LaBudde is a creative in every sense, and more often than not it seems like he is a spontaneous one. Often his compositions will start off in one place and then meander freely to wherever his creative state of being leads him.
At least that's the sensation from a listening point of view. The best way then, to enjoy Alan's music is to just to let it take you wherever it needs to go. That's more or less what I did with "SIDE B OF GLOBULAR CLUSTERS", and the results were rewarding.
To say this music is cinematic, is all too obvious, and Alan LaBudde's ability to create an intricate and emotive musical narrative is a rare gift to be admired, as is his ability to write effortlessly poignant and heart-rending pieces of wholly immersive music, with nothing more needed at his disposal, than a trusty set of inexpensive instruments.
From the portentous introductory piano exchanges, the spellbinding forces of the sonorous overdriven guitar-like strikes, and the jazzy piano range, to the sparkling string orchestrations and waves of rich textural and harmonic progressions, before the solemn piano closing, "SIDE B OF GLOBULAR CLUSTERS", presents us with an eclectic, variegated and distinct listening experience.
OFFICIAL LINKS: REVERBNATION – SONGTRADR – FACEBOOK – SOUNDCLOUD – YOUTUBE
Please follow and like us: