Former Red Hot Chili Pepper guitarist and Acid House beat maker John Frusciante once said of electronic music, "Rock music is electronic music, dependently entirely on electronic circuitry and amplification." The annoyed comeback of electronic music by rock musicians, however, stem from the perceived push-button simplicity in composition, and deceptive ease of its creation. Indie electro-rock duo, Z Quest, consisting of multi instrumental musicians, music producers and vocalists from Israel – Adir Benezra and Galor Taite, bring both schools of thought to rest on the same side of the fence. They show that electronic music and rock music, can evolve in wondrous ways, side by side, within the same band, the same performance set, and the very same song.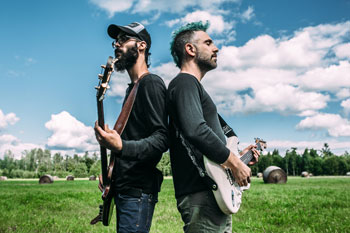 Z Quest then take their hybrid vision of post electro-rock out to the masses, so audiences can dance and rock together as one. On their track, "God Mode", a new song from their upcoming sophomore album "0|1", the duo once again display effortless virtuosity, combining shades of light and dark, using synth swells and bass oscillations to create wild mood swings for both the dance floor and a set of powerful headphones, if you so choose.
With Z Quest, I always go for the second option. There is so much detail in their arrangements that I feel dancing would distract my focus from the total impact of what they are trying to communicate. But that's just a personally biased opinion from a rock guru's point of view.
Truth be told, Z Quest's music can be enjoyed standing up, or sitting down, as long as you're really listening. "God Mode" explores Eno-esque territories, as much as it does Ennio Morricone's cinematic arrangements and the Gorillaz's bass driven post-urban ability to move with the times.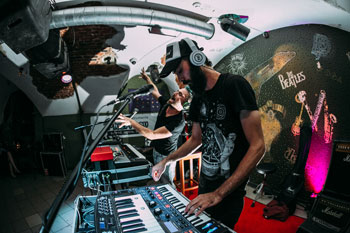 "God Mode" is the ultimate expression of Z Quest's pattern of music making. The way that every sound and beat is so perfectly crafted on its own, and then perfectly fits into an overall aesthetic to form something much larger than itself, reaffirms my firmly held belief that Z Quest are much more than a project that simply combines electronics and rock or whatever else.
When listening to any of their songs in detail, one can really appreciate the effort that goes into them, they are densely layered and meticulously put together, not anything at all like the 'cookie cutter' approach to music that so many have shunned the electronic music scene for producing lately.
Every time you listen to a Z Quest song you hear a new sound, or a new layer that was woven into it. As Z Quest continue to challenge the ghosts of rock vs electronic, "God Mode" demonstrates the duo's willingness to welcome new confrontations, promising an even more audacious future for their cross-genre blending.
OFFICIAL LINKS: WEBSITE – FACEBOOK – SOUNDCLOUD – YOUTUBE – ACUM
Please follow and like us: