LUXTHEREAL is a Phoenix based band with eclectic interests and musical expression in an increasingly genre and sample driven musical universe. The original music of LUXTHEREAL derives from its own unique synthesis of classic rock, new wave, power pop, techno/synth, blues, jazz, progressive rock, and beyond in their own captivating contribution to the new wave of classic rock.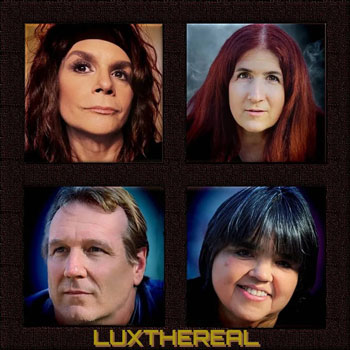 The focus is on the storyline as expressed in the mood, melody, lyrics and arrangement of each song; each it's own world for the listener to inhabit.  Atmospheric, lyrical, emotive, melodic, hypnotic, and cinematic are just a few of the words to describe the music of LUXTHEREAL; but the best way to experience it is to listen.
After an entrancing synth-driven prelude, the Phoenix-based alt-rock outfit LUXTHEREAL's standout single, I Got You, grips you with the alchemy that pours from the cinematic cocktail of classic rock, new wave, and post-punk.
The dreamy and ethereal instrumental interludes wrap around the robust vocal timbre of Rachel Guilbault and the increments of classic rock that pull you back to the 80s while simultaneously immersing you in a brand-new sonic world, defined by its emotive gravitas and atmospheric magnetism.
LUXTHEREAL are:
Ken Martin – Guitars, Synthesizers, Lead & Backing Vocals
Rachel Guilbault – Lead & Backing Vocals
Terry Martin – Bass Guitar & Backing Vocals
Tammy Stredwick – Drums & Backing Vocals
OFFICIAL LINKS:
https://www.facebook.com/luxthereal/
https://twitter.com/luxthereal1?t=O9s8RIcdvtpO8fc1inRpaA&s=09
https://music.apple.com/us/artist/luxthereal/1598170009
https://open.spotify.com/artist/6OLZN0dtD81R3zwdEQCxHm
https://music.amazon.com/artists/B09MV4P65W?ref=dm_sh_O2LJyRPXmVlv37Re2MSX06WnT
https://pandora.app.link/JkPz0XuOdnb
https://deezer.page.link/PXr52wTqs3kVpU979
Please follow and like us: