Francis Cush began studying music at a very early age.  He has since picked up a variety of instruments including guitar, bass, keyboards and drums and has earned an associate's degree in music. A few months back Cush released the single "Some Thoughts Before We Go", which he says was inspired by the autumn season.
"As we transition into the fall and head towards the holiday season, it's a good time to look inward and reflect upon the events of the year thus far," says Cush, "and plan for the months yet to come while relaxing with the company of loved ones and enjoying the sights of the beautiful scenery that is created as nature prepares for hibernation."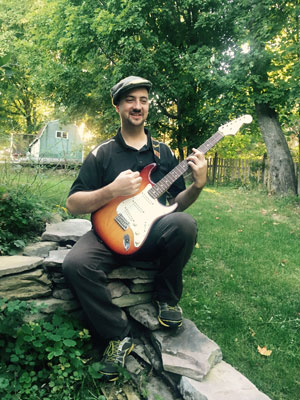 Francis Cush has made a very accessible yet musically-rich track that should appeal to the majority. The guitar work, the melodies, the rhythms – all are captivating and exciting. Cush is a great musician, who just happens to play guitar.
His approach is more akin to that of a keyboard player-looking to create a breadth of feeling and sound through the exploitation of the harmonic and tonal possibilities available to him by his chosen instrument. He tends to focus on composition, atmosphere and arrangement rather than licks and riffs. This makes him incredibly adaptable as a musician and very listener friendly.
Essentially "Some Thoughts Before We Go" is an engagingly mellow and bluesy rock-jazz amalgam that is both delicately intricate yet pleasingly warm, involving and melodic. The sound and range of the guitar really comes though and the level of reverb on the tracks makes them feel warm and big without swamping the recording or distracting the listener.
I personally would have turned the drums up, and brought them closer to the front of the sound spectrum in the final mix. But these are extremely subjective choices and each mix usually has its own intentions.
The other thing that I love is the relative simplicity of the playing. Francis Cush seems to eschew needless ornamentation and experimentation for experimentation's sake – he even simply strums the guitar from time to time. All-round "Some Thoughts Before We Go" is totally stimulating, relaxing and calming and most of all uplifting.
OFFICIAL LINKS: SOUNDCLOUD
Please follow and like us: