I was the composer and sound designer for ALIENATED, a film about a man who sees a UFO and has trouble telling his skeptical wife. Their relationship erupts into a spiral of problems – all against the backdrop of a possible nationwide alien abduction. The film won 13 festival awards including one for Best Score, and ended up being picked up for distribution by Gravitas Ventures, and is currently in select theaters and on VOD.
Both new and experienced composers will find that times have changed since the old days of scoring and delivering film scores.  Previous film scoring relied heavily on using conventional orchestral instruments and they were largely thematic.   Today's film music enhances more the overall environment and emotion of the scene rather than creating a symphonic version of the dialogue and actions.  Modern composers need to be able to create music that can stand on its own independently and also music that only makes sense within the context of the film.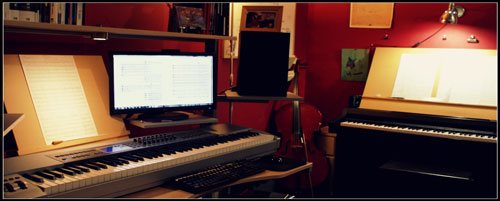 Here are some pointers for new composers on creating an effective score and how to deliver it:
1) Spotting Session- If it is not possible to meet with either the director or the producer in person it may be good to suggest a Skype session if you are located at a distance. However, I have worked successfully with directors whom I have never met before.  As long as the director's notes are clear and/or a temp track is supplied, an experienced composer should be able to take off from there. I have found that the stronger the director, the better the entire film is and Alienated was a great example of strength in leadership via Brian Ackley our director whose vision was extremely clear on what he wanted.
2) Having the proper equipment & knowledge to create unconventional sounds- In addition to being a sound musician the composer must be proficient in using his or her studio equipment, software, etc. Additionally, whatever software program they work in (Pro tools, Logic,DP) they must know how to convert these files into various formats and to adapt to a list of software programs.  An experienced composer will be able to create unconventional and convincingly captivating sounds by combining the oddest of foley with other foley and/or instrumental ingredients thereby creating almost a new instrument of sound.
3) Watch The Film – At first, I try to get a sense of the rhythm or flow of the film and then I determine where the music begins.  In the case of Alienated the soundscape opens immediately, flows into the opening credits, which then fuse, with a musical padding, into the beginning, no pauses until scene 2. I was supplied with temp tracks for most of the cues in the film and in addition there were written notes from Brian.

4) Saving Files Properly- I can't begin to explain how important this process is. Big Hollywood composers hire assistants just to organize and save their files properly. An experienced composer will create a system of operation to quickly retrieve files. I scored Alienated about 11 months before we got news of a major distribution deal. At that point I was asked to produce the files for broadcast distribution.  Thankfully, I had backed up my files to a reliable external hard drive. I originally created the score in Logic 9 and since then Logic X came into the market and so I converged these files and made wise use of the newest effects. But if those files were lost I would have had to start from the beginning.
Technical specifics of the Delivery Process For major distribution companies, especially those that handle VOD releases, there are some very detailed deliverables needed before a film can even be accepted by digital broadcast platforms. If the film you scored happens to be picked up by a major VOD distributor, here is a summary of some of the deliverables needed: 1) Music cue sheets- Each and every time there is music in a film, whether it be only for a second or for a long duration this section is called a cue.  The composer must supply the music cue sheets. These include the title, duration, publishing rights, copyright owners and performing rights society (ASCAP, BMI) of every cue.
2) Licensing & Synchronization- Copies of all music licenses (synchronization, master and mechanical) for all music used in the picture and proof of payment of licensing fees for music that is NOT part of the score (songs by other artists, source music) are supplied by the music supervisor. This was not the case in Alienated as there was no music supervisor and there was no other music in the film.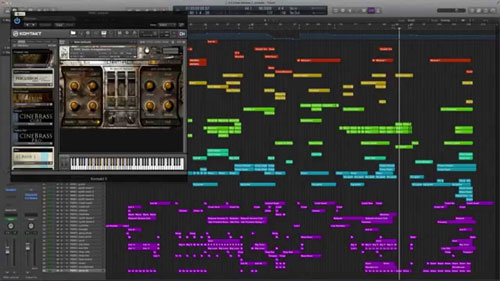 3)All audio shall be Broadcast WAV or LPCM with a sample rate of 48 kHz and a sample depth per source.
4) Audio files shall be continuous and fully conformed to final delivery masters.
5) Minimal technical delivery shall be a Mac-formatted Hard Drive (USB 3.0 or Thunderbolt preferred) with 1080p 23.98 HD or better version of feature in ProRes 422 (HQ or better) format with composite stereo composite sound mix, along with separate stereo music & effects (M&E) sound mix in AIFF or WAV format (16-bit, 48k or higher). Preferred audio delivery also includes 5.1 surround composite plus 5.1 surround music & effects (M&E) in CAF format, or each surround channel in AIFF or WAV format. In lieu of 5.1 surround mix, stereo stem tracks (separate dialogue, ambience, effects and music pairs) should be provided if available. Trailer of said feature should be in the same formats as listed above.
6) For International Delivery fully filled M & E tracks must be supplied. – This means that the dialog, music and effects must all be delivered on separate stems.  When dubbing language in a film, the sounds that were originally recorded in the first language are added along with the new dialogue.
Barbara J Weber is an award winning film composer. Her work and contact information can be found at www.barbarajweber.com. ALIENATED is in select theaters and on VOD.
Please follow and like us: