The singer-songwriter and hip-hop artist Mayne, hails from Sutter Creek, California. He started singing in choir class back in elementary school which alimented his passion for the craft. Mayne also took to writing his own lyrics and has been working hard to improve that skill since his school days.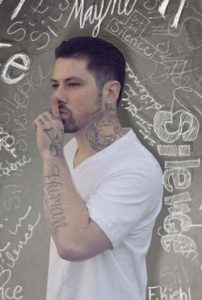 "I enjoy writing music because it is challenging to piece it all together, like a puzzle," says Maine. "Once I'm done writing a song, I feel a sense of accomplishment."  
Trent D. May aka Mayne, is just starting to launch his professional career but has his ideas and goals firmly engraved in his head and heart. And he has set the bar high for himself, including winning a Grammy one day.
Mayne's sound is heavily influenced by the 90's Hip-Hop and Rap which he grew up listening to. Originally he wrote rap lyrics but soon discovered he could add even more passion by singing his words with a more R&B slant.
Signed to the Beverly Hills Music Group, his music is distributed through Universal. The latest track by Mayne is "Sit in Silence" which can be viewed on YouTube.
OFFICIAL LINKS: REVERBNATION – TWITTER – FACEBOOK – YOUTUBE
Please follow and like us: