The Valium hooked me as soon as I heard the first track "Too Many Dreams Of Rock N Roll" from freshly released album, entitled "Amazing Breakdowns". This was an album that hit me in the gut and instantly dragged me along for the ride. After listening to it, I must say that this is one of the most unique, interesting and high-energy bands I have ever heard in the alternative rock scene of late. Though taken from a myriad of influences, their sound is completely their own and every song sounds unique to their band. I can't really imagine some other current band cover any song on this album and make it sound as good as the original. There are too many elements that need to be covered.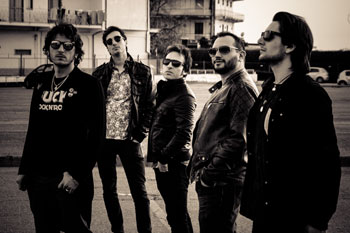 Marco Sabino sings in a way that can be angry, alluring, and awe inspiring all at once – this singular blend is evident on "I Hate You" – while still containing biting force and personal introspection as he does on "Ballad Of The Gypsy".
Many of these songs can go from sounding as melodic, spacey and godly as a psychedelic rock anthem – cases in point "Dare Love" and "Soul Sister" – to as raw and raucous as any rock n' roll or hardcore punk song you have ever laid your ears upon – pay particular attention to "Communication" and "Emily Davies" in this sense. These songs are actually all self-contained stories which guide the listener on parallel journeys through the album.
Each song, never remains set in any one boundary, constantly taking chances by doing different things. That's why they grab your attention and hold it there. The above affirmations are particularly true of "Like Wonder" and "The Cinematic Spectacle". At the same time The Valium is pretty excellent at manufacturing melodies that accurately compliment the lyrics and beats. All have bite to them, making it extremely difficult for someone to lose attention.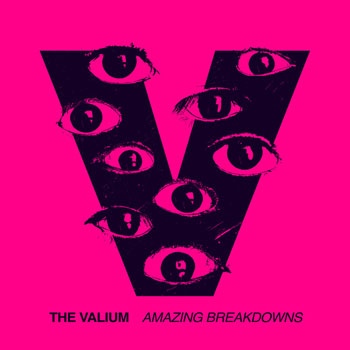 "Amazing Breakdowns" nurtures a beautiful breed of melody and rhythm, while The Valium is quintessentially a postmodern alternative group, one that delights in walking the high-wire intersections of visceral punk-rock expression and high art perfection.
They are able to accomplish this via five fundamental pieces of musical weaponry – Marco Sabino (Vocals), Luigi Sabino (Guitar /Backing Vocals), Luca Maresca (Guitar /Backing Vocals), Mariano Lepore (Bass /Backing Vocals) and Dado Maresca (Drums).
Two years in the making, and counting three mixes in different parts of the world – If you are into indie rock, alternative rock, punk rock, or just about any genre that contains the four-letter word, R-O-C-K,  "Amazing Breakdowns" is a must own album .
MORE ABOUT: The Valium is a five piece rock n' roll band from Salerno, Italy. Since their debut with Warner Chappell in 2010, the band has been recognized as the starter of New Beat, an offbeat merger of power pop, garage punk and Italian 60's rock vibes. The Valium have toured all around Italy for years and have captured attention through songs like 'L'Infedele', 'Lucienne', and 'Io Sono un Punk', which gathered massive success being aired on radio and TV shows. In  2015, the need of being understood by a wider audience, persuaded the band to release music in English, hence their latest album, 'AMAZING BREAKDOWNS', out on  XXXV (Giorgio Ciccarelli, Baba Sissoko, Nicodemo, Garbo & Luca Urbani)  and anticipated  by the first single 'I Hate You'. The VALIUM is currently set to tour Europe.
OFFICIAL LINKS: WEBSITE – INSTAGRAM – FACEBOOK
Please follow and like us: