The Impersonators was a duo formed back in 2017 after the breakup of Tom Tikka's former band, Carmen Gray, considered one of Finland's finest bands. In the process Tikka lost the support of Sony/BMG following the internal wrangles that caused the breakup of Carmen Gray.  It is during this period that he got together with his college friend Antti Autio to create The Impersonators. The duo has since released 2 EPs and seven singles. Their psychic grasp of where their music should go is incredible. They make ideas fun, lulling you into the shadowy sociological satire beneath their surface indie rock and pop sweetness.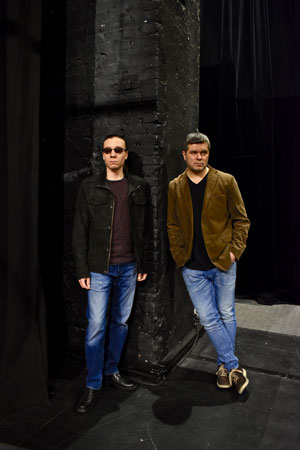 In 2020, The Impersonators single release, "Rodeo", topped the iTunes international pop charts at #1, and this is also the opening track on their full album 'LIFE OF GRANT', which showcases their brilliance as individual creators and as a unit. The album tells the life story of a fictional character called Grant, who is loosely based on Tom Tikka's father and godfather, a marine and merchant marine, two men scarred by war.
"These guys struggled with each and every relationship they ever had, every job, every new city…they hated change but yet couldn't live without it," explained Tom Tikka, continuing: "This album is the story of Grant's life from the perspective of his relationships, most importantly his two marriages, the latter of which was happy and continues to this day. The album takes the listener from Grant's youth and his first relationship rodeo to his golden years in San Francisco, where he resides now, still on cloud nine with his wife of more than thirty years, Charlotte."
Produced by Janne Saksa, "Life Of Grant" was released on March 26th, 2021. Among the 11 songs, is the aforementioned chart-topper, "Rodeo", as well as several of The Impersonators' previously released singles, and obviously their current single and video, "Scarlet Hell". These songs are both entertaining and challenging, as The Impersonators deliver beautifully and immaculately crafted pieces forcing you to think while remaining accessible. Even a cursory listen the songs on this track-list is enough to make anyone wonder why this duo is not a household name.
These songs are lush and shimmery, sparkling with crystal guitar notes, and dreamy harmonies that carries the ambience on which Tom Tikka builds his gorgeous lead melodies and intriguing storytelling lyrics. The real highlights of the album, are the moments where Tikka surpasses his own songwriting, arranging and performing boundaries. "Effigy" and "You Are The One" are both heavy with atmosphere and soulful melodic bliss.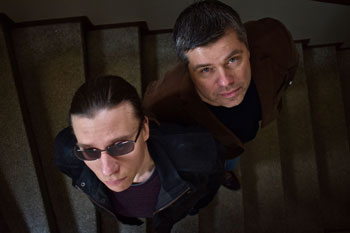 "Broken Snow" is a structurally complex and builds using tempo changing tropes with catchy auras. "Sad Café" rides on a funky groove, where electronic meets organic, and Tom Tikka's vocals cut impressively straight through the middle. "Burning Blue" is another absolute gem, where Tikka's vocals soar, and the guitars are on fire. It pairs beautifully with the powerful and expansive new single, "Scarlett Hell", to form the best back to back tracks on the entire recording.
The use of studio wizardry is impeccably placed throughout. The manipulation of vocals and harmonies is masterful, and the earthy bass and crunchy guitar sounds that adorn these tracks are sublimely divine. However the star of the show is undoubtedly Tom Tikka, his ingenious songwriting, and perfect use of his vocal cords is unparalleled in this sphere.
"Life Of Grant" is laser sharp pop and rock. No unnecessary noodling, no ego-driven departures. This is a tight album with absolutely no fat around the edges. Its production values are of the highest order, and its execution is on the same level. This makes for an unbelievably rich listening experience from The Impersonators.
OFFICIAL LINKS:
FACEBOOK: https://www.facebook.com/ImpersonatorsBand
TWITTER: https://twitter.com/1mpersonators
INSTAGRAM: https://www.instagram.com/1mpersonators_band
WEBPAGE: https://impersonatorsmusic.com
SPOTIFY: https://open.spotify.com/artist/43iP9Qdf52b0zuyBYKjgbl?si=1TVJZJr3Q8i4UsxolnOZmA
iMUSIC: https://music.apple.com/fi/artist/the-impersonators/1051324982
SOUNDCLOUD: https://m.soundcloud.com/the-impersonators
YOUTUBE: https://www.youtube.com/channel/UCNxEq8p5waRWe1Gp7DBAzCg
Please follow and like us: