If there's one thing THE DRAMA DOLLS are good at, it's challenging themselves to defy the status quo anyone would have them maintain. Rather than copping out to any preconceived formula, they choose instead to invent new ways to approach a particular sound or style while retaining their musical integrity which is what they've succeeded with here on their brand new album "REQUIEM" released on 27th of June 2016.
Ultimately, what this album does is capture the essence of the current state of their sound. They, like the songs are larger than life, captivating and seemingly unstoppable. It is loud, bombastic, grand, energetic, and above all, it's unapologetically THE DRAMA DOLLS.
There is no such thing as even a stinker of a song in their catalog, and it's the sort of music you can listen to over the years and always be able to get more out of. It's the sort of thing that makes you wonder how much even the musicians of THE DRAMA DOLLS themselves actually understand the brilliance of what they are achieving, when they are composing and arranging it.
For all the catchiness of their music, THE DRAMA DOLLS is a complex, progressive alternative rock group, working in various sonic dimensions. The "REQUIEM" is superb music making, with Chris Hodges' extraordinary vocal talent at the service of a songwriting genius like Mike Cambridge, who also plays some mean guitar together with Jon Wright on these songs. Agatha on keyboards rounds of the band's fully textured sound.
Every song is filled with well-crafted and sublime artistry, as the overdubs, the multi-layering, the vocal prowess, and the technique meets rock n' roll head on . I was extremely happy with their last effort "The Sublime Art of Self Importance", but this lifts the bar to an all new high.
It shows once again that even though their style grows and is flexible, they still hold to the soaring vocals, great lyrical stories and powerful instrumentals. I'll have to admit though, that often the melody, vocals and music is so gripping I couldn't even concentrate on the lyrics.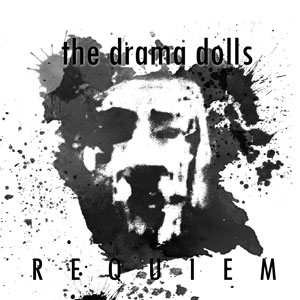 This happened on adrenaline-pumping tracks such as "Control #1 (Electric)" which also features a blistering guitar solo, "King For A Day" and "Don't Waste Your Prayers On Me", another song with some superb guitar work.
Other songs that totally caught my attention were the "softer" "Absolution" and "Control #1 (Acoustic)". Proving that THE DRAMA DOLLS are just as devastatingly mesmerizing, whether they're going at it hammer and tongues or just exploring softer sonic variables.
Once again, they show that they are capable of pushing the boundaries of what mainstream rock can accomplish with their newest album. Even though you will be hooked from the very first note, thanks to their stirring melodies and hooks, THE DRAMA DOLLS is a group that requires multiple listening to fully appreciate how brilliant they.
The combination of vocals, lyrics, guitar tones and pure energy is heavenly and the result is a collection of some of the most interesting and powerful songs you're likely to find on any one album this year.
OFFICIAL LINKS: WEBSITE – YOUTUBE – FACEBOOK
Please follow and like us: