Starfeyze has a gift for writing short, infectious earworms. When tracks such as "made me", "away" and "dangerous" arrive at their conclusions, they leave a void in the listener that can only be filled by playing the tracks again and again. His single release "like" has a quality backing instrumental, complete with a clean guitar riff and a rumbling bass line which shows the rapper continuing his signature catchy pop-trap fusion. When Starfeyze reaches his peaks, like this, his certifiable bangers are impossible to listen to only once.
"like" is an instant anthem, a taste of what is possible when the sugar rush combustion of  Starfeyze's vocals is paired with the hypnotic knock of the beat. Running through his growing catalog, it is clear that the rapper strives to be ever-present in hip-hop's ever-changing terrain by building upon his winning formula with reinvigorated flair, release after release.
Starfeyze clearly has fashioned himself somewhere between a singer and a master of melody, infusing his rapping with an airy sort of melodicism that makes his words seem to hang in the air, lingering even as the song moves forward. The artist's understanding of, and playing to, his strengths is crucial to the outcome of "like".  In fact Starfeyze's best songs happen when his talents and the beat bend towards each other, as occurs on this song.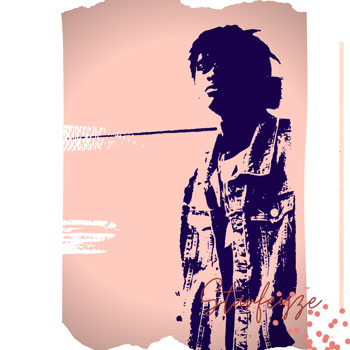 On "like", Starfeyze bends his flow in dozens of directions as if he's sculpting in real time, while simultaneously letting the melody slither across the propulsive beat, in a way that feels entirely natural.
Starfeyze is a charismatic artist making accessible party-up versions of trap, and it becomes more apparent on each listen that his ability to create ear-catching grooves is no fluke. He has grown deeper into his own sound, leaning into the echoing melodies, skittering hi-hats and rumbling bass-lurches.
"I roll your bitch like a blunt. Ain't even know when to stop. I hit you bitch from the back. Like I love these bitches a lot. I'm on my way to the top. I might just like it or not," raps Starfeyze, rooted in the endorphin-rush sound of the beat.
The Queens rapper is just as capable of being fired-up as he is with sneaky melodic sophistication. Though these are well-known trap tropes, Starfeyze's execution passes over you like a shimmering sea-breeze, leaving traces of vapor and a fleeting feeling of refreshment.
All throughout "like", Starfeyze keeps things fired-up, hitting hook after hook and making sure his boasts are attainably relatable. He stays brisk and exciting, making sure the chemistry between the music and his flow jump out of the speakers at you.
The end result is better than I could have expected – a fun, breezy, ear-catching trap song that never outstays its welcome. In its own way, it's a triumph, as "like" manages to give fans of the genre exactly what they want.
OFFICIAL LINKS: INSTAGRAM – SPOTIFY
Please follow and like us: