"Turbo Soul" is the 11th solo album by guitarist, composer and producer Slang (Steve Lang). Indeed, "Turbo Soul" occupies a relatively unique space in the field of instrumental albums as Slang is far from showy despite his clear virtuosity. For those dubious of guitar instrumental music on the whole, Slang's approach to composition is wholly focused on memorable songs. His guitar playing is deeply expressive, carrying the nuance and simplicity of vocal melodies rather than noodling for the sake of it. That's not to say there isn't some impressive lightning-fast shredding here, but Slang's technical fluidity is simply there to add flavor and color to songs, rather than dominate the track. It's tasteful as it is remarkable.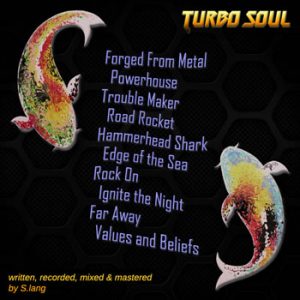 This time around Slang is joined by Kay-Ta Matsuno (guitar), Misaki (vocals) from the Tokyo based alternative rock group Gurislamar, Junya Ota (keyboards) from progressive rock group Miyazono "LUCY" Takuya, and Kaoru Sakaguchi Paschal (bass guitar). Together this collective of players flabbergast us with a rocking album in every sense. The 10 tracks showcase their ability to combine technicality, rhythm, and melody in a flawless and shining yet subtle and uncontrived way.
Tasteful keys add a great counterpoint to Slang's masterful leads, and the in-the-pocket rhythm playing. The bass and drums hold everything down solidly, allowing Slang to hit some serious hyper speed. Not to mention the carefully chosen vocal interludes which add an extra dimension to the music. The results are simply the best Slang record yet. A mature and engaging album of tasteful shredding and soulful grooves.
The production quality on "Turbo Soul" is as sweet as Slang's tone and guitar licks. The energy in the music and dynamicity in the arrangements not only make the album simply mesmerizing, but also absolutely entertaining. The opener, "Forged from Metal" launches with a mixture of dexterous playing and bone-crushing guitar riffs. Slang of course, completely melts faces, as his playing has gotten more precise and technical than ever. But it's the sheer power of the tune that is impactful.
"Powerhouse" adds in a distinctive groove and kinetic progressions. It stands as yet another expression of the soul and spirit, demonstrating how virtuosic guitarists need not sound mechanical and bland. The bluesy scream of "Trouble Maker" also gives us a first chance to savor the exquisite vocal tones of Misaki, as she scats along to the guitar motifs. "Road Rocket" sparkles with a funky upbeat bounce. Having the talent to tell a story without any lyrical cues is no small feat, and something Slang revels in.
"Hammerhead Shark" gears up with some funky power-riffing that steers more towards the fusion-laced style, and features some sublime keyboard playing by Junya Ota. "Edge of the Sea" takes things down a notch, as Slang brings in a slower, ethereal and cinematic soundscape, which soon explodes into a high energy rock-cocktail of soaring dual guitars and a driving beat, before going full circle in sound…and then back to the grindstone again.
Slang is a formidable musical force and his new album is a must-have for all of us who have a fondness for quality guitar instrumentals. Listen to the groove and tone on "Rock On", and how solidly bassist Kaoru Sakaguchi Paschal holds the bottom end together. The brilliant lead motif of "Ignite the Night", once again demonstrates Slang's ability of using the guitar as if he were a rock vocalist. "Far Away" completely switches the album's sonic template, as Slang hauls out the acoustic guitar and string section.
"Values and Beliefs" closes the recording with a mellifluous mid-tempo tune. Richly layered and lusciously arranged the song is a real highlight, and the wail of the lead guitar segueing into multi-layered sounds is a true joy. "Turbo Soul" is a delightful, passionate, adventurous and imaginative album. It's full of technical mastery that is counterbalanced by a sense of soul and groove.
OFFICIAL LINKS:
Website: https://www.slangmusica.com
Instagram: https://www.instagram.com/slang.music/
YouTube: https://www.youtube.com/SlangProductionsStudios
Apple/iTunes: https://music.apple.com/us/album/turbo-soul/1559352868
Spotify: https://open.spotify.com/album/0OXNAf8FJevnjXczaJqH6A
Line Music: https://music.line.me/webapp/album/mb000000000211bd49
Please follow and like us: