Just how talented, passionate and ingenious are Boonie Mayfield and his wife Giane Morris Vaughn? Luckily, it's not a question that is left in anyway unanswered. Boonie has been on my radar for a while now, and his craftsmanship in both the music and audiovisual worlds has been proven countless times.  But this new adventure with Giane, takes Boonie to a whole new level. During the quarantine period the married couple decided to spend their time being creative, and embarked on starring in their own homemade musical comedy show. They immediately got down to working on its pilot episode, which is aptly entitled "BOON TV: The Pilot". What ensues is a highly entertaining tongue in cheek show that exults all the artistic qualities Boonie Mayfield and his wife Giane Morris Vaughn possess, while parodying the music industry, public access television and commercials.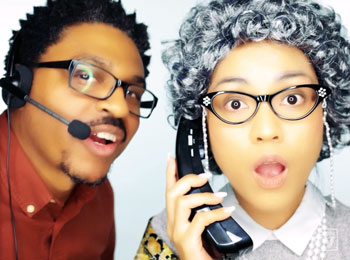 Fabricated within their own fictional pop culture universe, Boon TV includes completely original music and unlimited surreal characters inspired by the early days of MTV, BET, VH1, The Box and pretty much any and every decade of music captured on video. Boonie and Giane produced the show entirely in and around their home during the pandemic, and the results are extraordinary. "BOON TV: The Pilot" has been released on YouTube, while the original soundtrack can be found on major streaming platforms like Spotify.
The characters in "BOON TV: The Pilot" are hilariously surreal and completely over the top, hammering home their laser sharp messages loud and clear.  But where Boonie Mayfield and Giane Morris Vaughn really excel is in the music clips and soundtrack. Peel away the humorous and satiric lyrics, and you're left with music and vocal performances that are absolutely top shelf, perfectly replicating the aesthetics of the era and style Boonie and Giane have put into focus in a particular piece.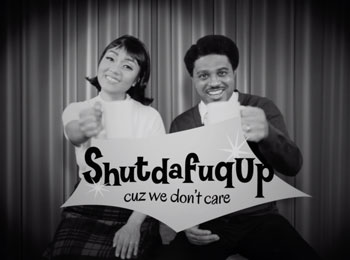 The best part of course, is that the soundtrack is completely original. So while Boonie and Giane are leaning on the original aesthetics of a particular style, they're actually creating, brand-new, freshly cut tunes that make for a thoroughly captivating listen. "A.C.S. (A$$ Crack Sweat" instantly puts Giane Morris Vaughn's soulful and mellifluous vocals in the spotlight, but first you got to get past the lyric sheet which will hold your attention hostage for a while.
Boonie Mayfield responds valiantly on "Crack Cocaine & Gangsta Shit", his voice holding center-stage, as Giane harmonizes in the background. The beat bangs and slaps on the mesmerizing groove of "Tell Me If U Want Me 2", where Giane again shows off her singing skills. All of which leads to an explosive conclusion, as you will come to find out. "The Freestyle Boof (Spitty McGee)" catches Boonie spitting some rhymes before he switches the template to the soul powered jive of "Titty Milk & Cookies".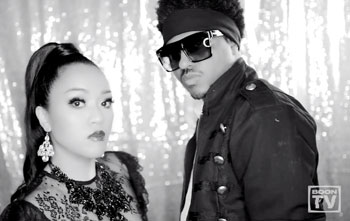 Versatility is the keyword here, as Boonie and Giane tackle each of these songs with inspiring passion and certified skill. From the anthemic-styled rap of "That Commission" to the psychedelic rock of "Bitchin", the synth-driven new jack bounce of "TFYM (Thing For Your Momma)", and the ethereal symphonic-pop of "Punch U In The Face" to the show-time duet of "Shutdafuqup", Boonie Mayfield and Giane Morris Vaughn delight, entertain and enthrall with their confident and convincing performances.
"BOON TV: The Pilot" is first and foremost an entertaining comedic TV Show, but its soundtrack firmly holds its own with superb vocal performances and excellent music production. All of which makes this an absorbing audiovisual experience. Boonie Mayfield and Giane Morris Vaughn are living proof that in completing a project of this nature, resources are important, but it will only take you a third of the way, without talent and creativity. Elements that these two have in abundance!
OFFICIAL LINKS:  YOTUBE – SPOTIFY – INSTAGRAM: @booniemayfield – @gianemay – @boontvshow
Please follow and like us: