QOTA is a rock, garage, lo-fi, experimental electronica combo from Kuala Lumpur, made up of members M.Azeem (sound, guitar, pad, phone, keyboard, effects pedal) and Zairul Zairullah Zaril (drum, gendang, pad, gong). Most of their songs were recorded either in a bedroom studio, a bathroom, a garage, or even inside a car. The band keep experimenting and exploring new ways to record their music.
During August 2016, QOTA released its 4 track EP, entitled "Blank Space".  Electronic but garage, melodic but gritty, great hooks and vintage texture – this band records their music the way I think it should be intended to hear, without overproduced studio sounds, or anything else that doesn't require some actual talent.
Although it could be labeled as "lo-fi" music, I think that is underestimating them. There is a sense of nostalgia, and the instrumental aspect is upbeat and energetically layered, while still uncannily remaining relaxed. Just listen to this contrast in the opening track, "Ride". The title track "Blank Space" is cleaner sounding and more rhythmic, built on a thumping drumbeat and a thick synth pad sound.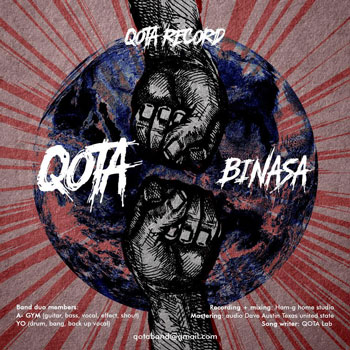 "Don't Let Me Down" and "Faded" both have a big and busy sound and in places actually seem like cinematic soundtrack music. "Don't Let Me Down" with its overdriven-guitar sounding pieces, is my favorite track of the bunch. QOTA are one of the most avant-garde, inspiring little underground bands I have come across. At any time throughout the day if you are ever feeling sad, lonely, or maybe you're just taking everything way too seriously.
Then just put in the EP and let the music give you something to feel. Their music is a very raw, solid feel. You know that QOTA actually have talent and haven't been sold out by the mindless media. But above it all, I believe that M.Azeem and Zairul Zairullah Zaril have a great collaboration going on.
This music is amazingly simple and astoundingly complex all at once. And when some people may say it's a little weird, I don't think they mean that it's chaotic and hard to listen to, because it's definitely melodic. I think they just are referring to the intentionally unsophisticated production, which ultimately, is the smart thing going on here.
They capture a raw intensity and an eclectic innocence that other electronic bands would pay money for. I usually hate bands that try to outdo themselves, but QOTA never goes there, and really keeps every track interesting without being pretentious. And that is a very difficult thing to do, considering on how experimental their sound is.
I don't know what you're waiting for. Check it out, you'll be hooked to. So bottom the line is if you have an imagination and don't want yourself to be sold only to the mainstream radio garbage then get this EP somehow, somewhere, someway. Moreover, the band is planning on producing one song a week, so there will be plenty to listen to in the near future.
OFFICIAL LINKS: ITUNES – FACEBOOK
Please follow and like us: