My rock roots go strongly back to the 1970s and '80s, but I still like to look for favorable rock music in the modern day when time permits. Lambstone is one of those new bands that have appeared on my desk during the past few weeks. Their new release is everything I like to hear in a modern day album – walls of guitars, solid melodies, powerful singing, and variety of tempos. The 5-piece Italian band accomplishes all of that in this latest epic album. From monster tracks like the single "Hunting" to beautiful heartfelt power ballads like "Queen", the quality is there. Just about every track has energy, attitude, and passion.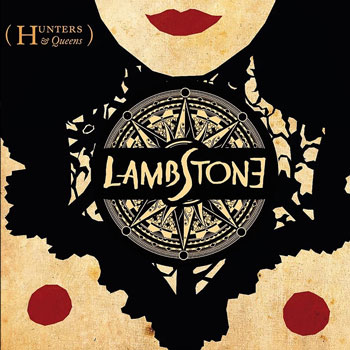 Contemporary alternative rock band Lambstone who get their name from a district called Lambrate in Milan, where the group formed in 2013 and is made up of  Alex "Astro" Di Bello (vocals), Giorgio "Dexter" Ancona (guitars),  Ale "Jackson" Ancona (guitars),  Andrea "Illo" Figari (bass), and Andrea "Castello"Castellazzi (drums).
Influenced by 90s and early 2000 post-grunge, Lambstone launched their single "Grace" via Virgin Radio Italy in 2015, and in March this year dropped their debut album entitled "Hunters & Queens" through the Italian independent label Vrec (Audioglobe distribution).
The ten new tracks contained on the album were recorded with international producer Pietro Foresti, whose credits include work with numerous major label artists, including Tracii Guns (L.A. Guns, Guns N' Roses), Scott Russo (Unwritten Law), Kid Knucles (Korn), and Sanjay (Asian Dub Foundation). The album also features an electric remake of Kansas 1978 classic "Dust in the wind".
A band whose success will no doubt ride on being accessible for the radio and the casual listener, as well as being technical and complex enough for the dedicated fan, Lambstone have managed to create their own sound without acquiring any rough edges, and the songs themselves are coherent, intelligent, perfectly executed and produced. "Hunters & Queens" manages to succeed on the technical side of things, as the production is incredibly well done on almost every track and it all sounds very crisp and clean, yet gritty and grungy.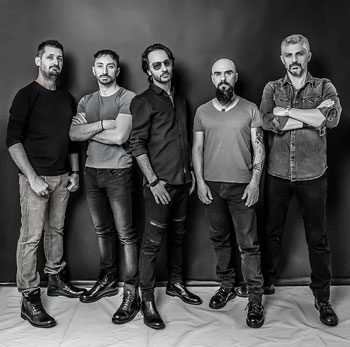 Giorgio and Ale do a wonderful job creating some really infectiously pounding guitar riffs and spellbinding melodies while Andrea shines on the bass with rock solid basslines. His partner in rhythm, Andrea, does a damn good job on the drums throughout the album, especially on "Stronger" and "Queen" where he adds real punch and dimension to the songs.
However, as in all rock bands, the real star of the show, besides the guitars, as always, is the lead vocalist.  Alex "Astro" Di Bello's performances on the album are thoroughly engaging and he gets to show off his raw vocal power and range as well as his ability to really convey emotion effectively.
 Alex brings together the band's deep lyrics, big hooks and soaring melodies, in a set that is full of tonal color. From the epic "Kingdom" which sets its sights on our barbaric and twisted sense of religion, to the desperate cries of "Hopeless", and the frantic strains of "Violet", Lambstone excel at blending arena-ready swagger with dark inner city groove and an impressive array of sprawling arrangements.
After all is said and done "Hunters & Queens" is an excellent album that really plays to Lambstone's strengths. The entire album is catchy with enough variety and quality to keep listeners coming back for more each time.
OFFICIAL LINKS: WEBSITE – TWITTER – FACEBOOK
Please follow and like us: