Kevin Irvine aka K9 Kev is an emcee and songwriter from the small coastal town of Oban, Scotland. Growing up in the quiet fishing town, finding his way as a rapper was a difficult task. Balancing various commitments with his musical aspirations over the past ten years, Kev was instrumental in helping to establish the vibrant Scottish hip hop scene. K9 Kev now returns with 'Dear Diary', an intimate EP recounting both the positive and negative aspects of growing up in such a limited environment.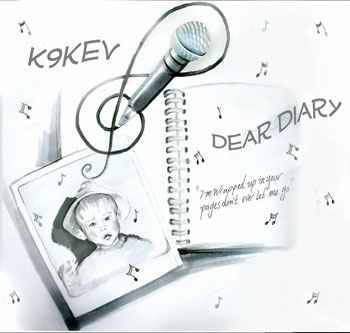 Anytime an EP like 'Dear Diary' arrives it seems to cause no end of consternation among the music press and fans from the USA side of the pond. Always happy to pigeonhole artists for the sake of marketing, hacks seem to struggle when credible UK 'urban' music arrives. K9 Kev has taken the basics of a genre that is currently lying face down in the water and transformed it into something far, far more intriguing. Close on 30 now, K9 Kev comes across as remarkably mature in his rapping, and sounds almost like an elder statesman of the streets.
The EP maps out K9 Kev passage from boyhood to manhood. And the lyrics are speckled with the kind of things a boy, who's working things out for himself, and for his craft, is likely to have going through his head. The result is we get an insight into a many sided person, rather than a one dimensional rap personality. The thinking-out-loud observations are sometimes sensitive, sometimes brutal, sometimes pensive, and most times passionate.
The great thing about this EP is that you cannot classify it under one genre of music; it's not your regular hip hop. The sound and production is undoubtedly ground-breaking, with organically sounding beats that are filled with crunchy, swelling electric guitars, acoustic pianos and thumping real drum sounds. Throw in a lot of melody and harmony, and you have a very atypical collection of rap songs.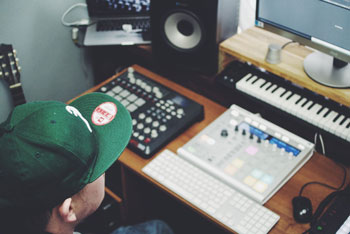 'Dear Diary' is an EP that I will gladly label as a personal favorite, and I'd probably throw the term classic in there as well. It is fresh, it is unique and it is real. The songs are easy on the ear but if you listen more closely the lyrics are witty and a smart commentary on various aspects of K9 Kev's life. Once you get over the 'strange' accent, you will notice that K9 Kev's style is diverse and interesting throughout the whole EP, and it will appeal to almost anyone that might happen to hear it, regardless of genre preferences.
As opposed to most USA rap and hip-hop, this music is not full of sexy and trashy women and gun-toting men, but of a solitary man who is representing his music and his life. Again, even if you don't like rap, you can come here just for the music. Wallow in the guitar-induced soundscapes created on "How It Began", "Dear Diary" and "West Coast Town" ft. We Looked Like Giant's. They're enough for indie and alternative rockers to die for.
The EP "Dear Diary", quite simply, a stunning slice of UK music – whether it's hip-hop, rock or whatever – doesn't matter – K9 Kev is so distinctive and so Scottish…at last. This boy still has the time to be going places, believe me!
OFFICIAL LINKS: WEBSITE – SOUNDCLOUD – FACEBOOK
Please follow and like us: