When an artist is on his ninth single release since 2021, you know his doing something right, and that's exactly what Red Dirt artist from the border of Oklahoma and Missouri, Jeremy Phillips is doing, as he continued to blend Americana music roots with contemporary flourishes. Though many modern day artists love to cite Red Dirt as a sound and influence to their music since it allows them the latitude to slide between country and rock, it's only a select few who can actually practice what they preach. For those who complain that Red Dirt is as hard to define as Americana, they should understand that it is as much of a sound as it is a feeling. It's bound to the roots from the influences of early Oklahoma country rockers who simply wanted to tell a heartfelt story. Jeremy Phillips gets that raw, gritty sound and emotional storytelling blend just right on his supercharged single, "Get Gone".
The song jumps out of the blocks with a crunching guitar riff and a slamming drumbeat, before Jeremy Phillips' soulful and resonating voice takes over the template. The guitars never fall behind though, driving to the fore with fiery motifs when required, to add tonal color and a rugged mood to a propulsive arrangement. Phillips is one of those singer-songwriters who knows his strengths, and plays to them effortlessly on "Get Gone".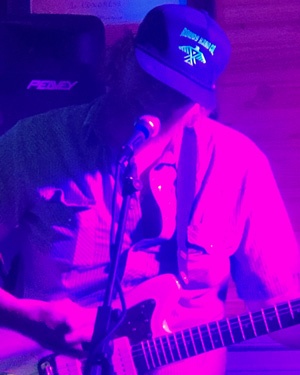 A standout contribution to his catalog, "Get Gone" has an ear-warming melody elongated by screaming guitar interludes, which lead into a chorus that touches on musical perfection. His Jeremy Phillips' rock-infused country template coupled with a dominating set of vocal pipes quickly identifies him as a rising star to watch in 2023. Much like Phillips' previous releases, "Get Gone" sounds purely organic both in its raw disposition and in the recording of it.
"Get Gone" is a thought-provoking song offering honest, introspective and intelligent, lyrics and a carefully nuanced vocal performance, spiced up with a chorus that has a terrifically memorable melody. It also offers superb instrumentation and a hard-hitting mix. Though loaded to the brim with both abrasive and banging sounds, this song could easily find mainstream success due to Jeremy Phillips' intoxicating vocals and the catchy hooks.
The thing with Jeremy Phillips' releases is that he always pushes a forward-thinking yet still accessible and nostalgic sound that's layered and certainly has depth in its lyrics and themes. He never sacrifices the rougher edges of the Red Dirt sound, which help him maintain a significant quantity of authenticity within his music. Phillips nails all the genre's basics while digging deeper.
Jeremy Phillips is committed to strong melodic grooves, which are the driving forces behind the powerful guitar-dominated arrangements in his songs, and evident on "Get Gone". If there's a reason to appreciate good, modern-leaning Red Dirt music like this, it's because Phillips' writing also holds up well. The result is a song that is sonically and lyrically excellent, and way better than whatever the mainstream is slopping out these days.
OFFICIAL LINKS: Instagram: @jeremyphillips_music
Please follow and like us: