Levi Batkin & SAM.'s "For You I Will" is a single of our times. It's not yet another modern electronic rumination. It's not that reductive. Instead, it's an unflinchingly organic sounding electro track, which has the sound of an invigorated and thrilling project. Their charismatic presence evidences the sonic and emotional bankruptcy of many of their contemporaries and peers work of late. Over a relentless beat, Levi Batkin & SAM. dial in gloriously melodic choruses in support of the pulsating rhymes which give the track  dancefloor urgency. The beautiful and warm shimmering keys, color the sonic palette with ear-warming tones that mesmerize the senses. It's a complex maelstrom of human emotion and sonic bliss.
"I'm waiting for the special touch you give. I'm needing it more than I ever did. Don't wanna be your sacrifice in love. But for you I will," recites the opening affecting lines, as Levi Batkin & SAM. unfold the heartfelt narrative which weaves its way between loving and leaving.  "For You I Will" is a superb calling card for Levi Batkin & SAM., and an excellent entry to a fantastic and idiosyncratic ever-growing discography.
"For You I Will" is a propulsive number full of vibe-inducing keyboards and dynamic drums that are carefully, and tastefully programmed. The charismatic vocals are deliciously flirtatious and soulful, perfectly suited to comfortably perch itself on any mainstream radio chart and win over fans. The pace of the song is not to quick, neither does it stall in repetitive glee, instead Levi Batkin & SAM. push the track through its varied sonic phases with a steady and exiting momentum.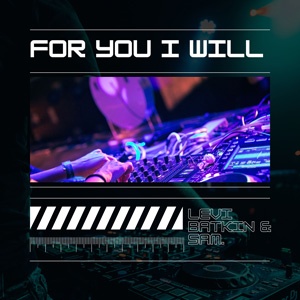 "For You I Will" is a bracing electro-pop and rap anthem that is lush with sweeping tones, and a swirling melody that is strikingly attractive. Levi Batkin & SAM. coalesce all the song's distinct elements into sheer sonic beauty.
The magic of the vocals is that it somehow injects a soothing urgency and a congenial tension, which sits exquisitely with the production. Ultimately, the song shows two talented and potentially great artists engaging with their sound while growing and expanding.
The work of Levi Batkin & SAM. should garner the kind of praise that young, bright-eyed musicians fantasize about. Their alluring rhythms and all-embracing vocals, paired with a distinctive approach to quality musical craftsmanship, make for aural gold.
Already featured on BBC Music Introducing and looking to work with tons of other artists, UK based Levi strives to create music that is technically sophisticated and emotionally engaging. Though computer-assisted, his productions always have an organic warmth, earning him a successful career path.
SAM. was born in England but grew up in the USA where he is exposed to diverse musical influences. He has eventually brought his passion for music to the creative table.  Levi Batkin & SAM. collaborated on "For You I Will" through networking.
Having both originated from London, allowed Levi Batkin & SAM. to easily connect their synergies and vibes, as they share similar backgrounds and tastes. All of which renders "For You I Will" an exhilarating listening experience that feels passionate and powerful.
OFFICIAL LINKS: https://instagram.com/levibatkin1
Please follow and like us: